History
Pietro Beretta company has introduced Series 80 pistols starting in 1976. Initial group was 81, 82 and 84, with 85 added later. Models 81 and 82 were chambered for 7.62x17mm Browning cartridge (.32ACP), 84 and 85 for 9x17mm Browning Short (.380ACP). Models 81 and 84 had double-stack magazine (respectively 12 and 13 rounds), while 82 and 85 had a thinner grip and 8-round magazines.
The next models in series were 87 and 89 (rim-fire target version) and 86 (85 with an interesting, hinged barrel). Whole series had some upgrades, including "FS" versions with a new trigger guard shape: original had a rounded, FS squared front (finger rest).
Commercial name of the series is "Cheetah".
Wikipedia information about series 80:
http://en.wikipedia.org/wiki/Beretta_Cheetah
More information:
http://world.guns.ru/handguns/hg108-e.htm
Modelgun
Beretta guns are very popular among replica makers. Majority of these are 90 series, but 80s are also represented fairly well. There is a Western Arms 84FS (ABS, airsoft GBB), Cybergun 84 (metal, airsoft CO2), as well as Marushin 84 (ABS, cap-firing) and WaShan 84 (metal, cap-firing). One of forum members has converted an airsoft M84 (Western Arms) to PFC using Marushin elements, check it here:
http://mp40modelguns.forumotion.net/modelgun-videos-f2/wa-m84f-remodeling-modelgun-t1289.htm
I always liked these small pistols. I was also intrigued by WaShan modelguns after reading about them here. When an occasion came up, I did not hesitate long and got a WaShan 84, silver version, from a forum member.
Box
WaShan packaged their Beretta M84 in a cardboard box with a flip-up flap. Box is marked "FS-9708M M84" at three sides (front/left/right) and much more text at the top, including "Pietro Beretta M84" and "TLASTIC MODEL GUN". There is also corresponding text in Chinese (or Taiwanese) and a logo. "FS-9708M" is probably part number ID, and it has a hand-drawn "S" marked next to it. This signifies all-silver version, as there is also a two-tone version (and probably all-black as well). Box also has white circle stickers of unknown function at top and front.
Inside you should find a styrofoam cutout with modelgun and magazine, cartridges (I think originally there are 5 WaShan ones) and cartridge loading tool. On top of all of that there is a leaflet - pretty good instructions with pictures.
For manual please refer to:
http://mp40modelguns.forumotion.net/modelgun-instructions-f10/wa-shan-beretta-m84-manual-t1907.htm
Modelgun
M84 is a surprisingly small replica, but it fits hand very well thanks to its double-stack magazine that makes the grip fairly thick.
When you pick up the model from box, you will immediately notice that it is pleasantly heavy. Weight is a huge advantage of full-metal replicas and reason that I truly like this WaShan model. People used to airsoft and modelgun ABS replicas also comment positively on how heavy this one is.
Frame and slide are metal and silver. Trigger, hammer, rear sight, slide lock, safety, extractor, trigger bar and take-down lever are also metal, painted black.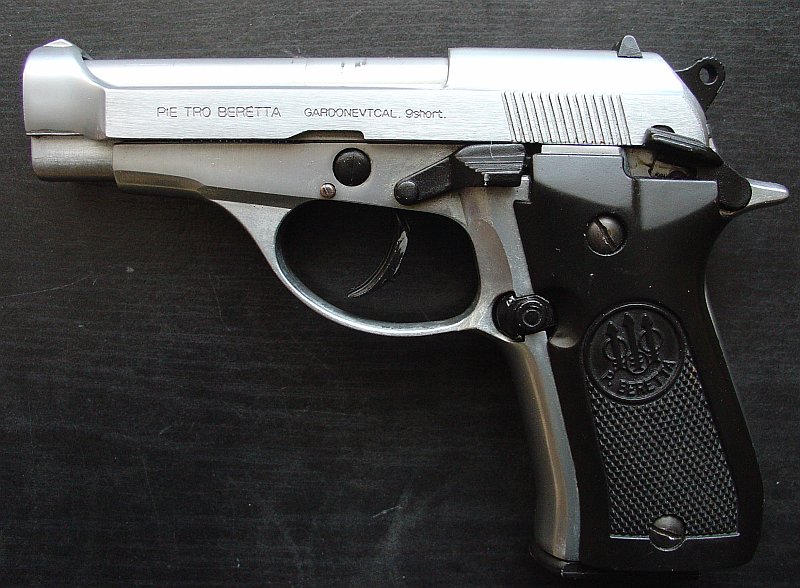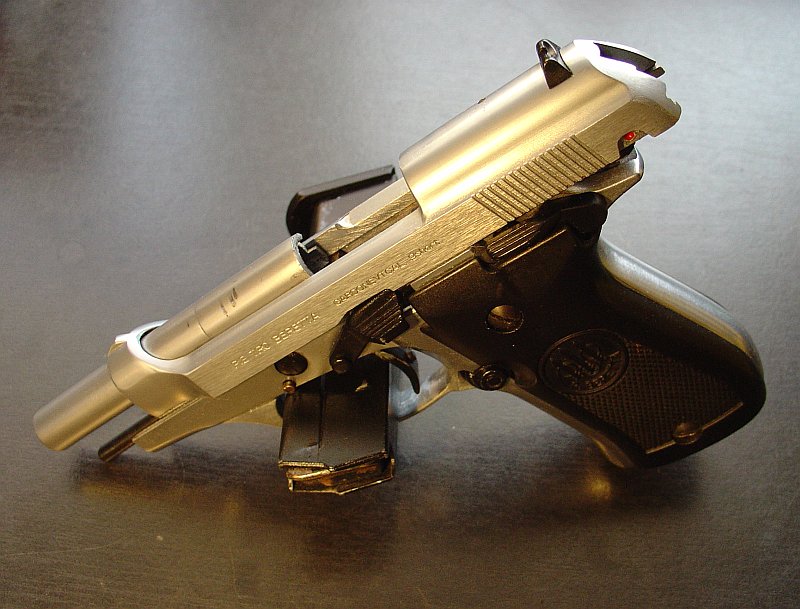 Metal parts have a varying finish. Most external surfaces are flat and smooth with nice finish to it. Several places have a more rough finish, especially inside of the trigger guard, and slide at the bottom near muzzle.
Slide is marked on the left with text "PIE TRO BERETTA GARDONEVTCAL. 9short.". It also has a red dot painted under safety to show firing position. Right side is marked with "FS-9708" and a small WaShan logo: mountain with "FS TOYS" text. It is obvious that markings are not 100% correct. Left side should read "PIETRO BERETTA GARDONE V.T.", with a serial number below on frame. Slide is serrated near the back to facilitate pulling it back, in a typical fashion seen on other pistols too.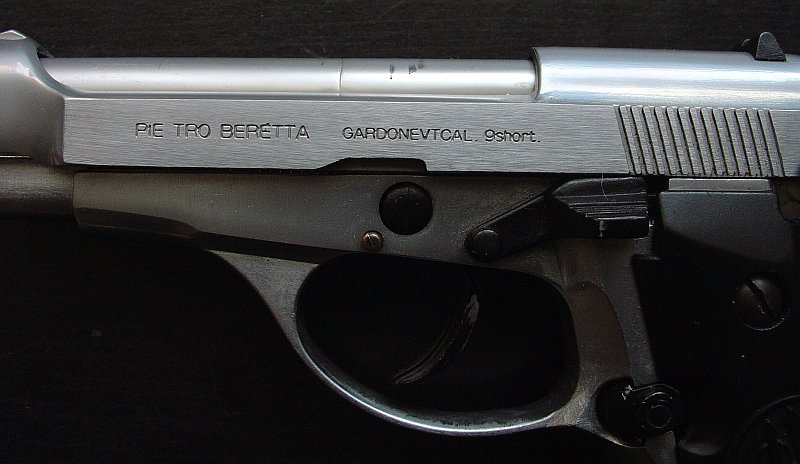 Front sight is shaped from the slide, rear one is external part installed in it. Top of slide is open, displaying barrel, like in larger Beretta 92 pistol or Walther P38. Extractor can be found on the right side. Hole for pivot pin for the extractor can be seen at the top of the slide.
Frame is typical for a pistol, no surprises here. There is magazine catch release button near trigger guard, slide lock lever above it, take down lever on the right side above trigger guard. Trigger bar runs outside the frame on the right side, like in P-38 or Beretta 92. There is a safety lever near the back of frame/slide. Safety locks regardless of hammer position because this is a double-action pistol.
Grip panels are black and metal, they are marked "P.BERETTA" with original logo, but they are not the same as original ones. They are held to the frame with two black screws each. There are/were washers under the screws, but some are missing - these are tiny and very easy to lose while removing grips.
Magazine
Magazine for M84 is double-stack, with 13-round capacity (although I would not recommend loading it full of cartridges due to spring strength). It is metal, painted black, and it has a nicely shaped bottom plate. Mag follower is made from different metal.
Cartridges
WaShan supplies their own cartridges with this replica. Apparently Marushin M84 cartridges can also be used in this replica. As far as I can tell, the difference between these two is shape of the head, and o-ring around piston. Internals are very similar, as WaShan based their design on Marushin PFC cartridges.
The first photo shows difference in head shape. I am not sure which one is which, as I have both types mixed... As Cerwyn pointed out the bottom one (with o-ring on piston) should be Marushin.
The second photo is internals - note an additional o-ring around one of pistons. Both carts have o-ring around the base, at the photo one o-ring is inside bottom part, the other stuck to base.
The third is Marushin box of M84 cartridges that should work ok with this model.
Firing
After you go through usual chore of loading the cartridges with caps (they use 7mm caps), you would load cartridges to the magazine and magazine to the replica.
You need to rack the slide to introduce the first cartridge to the chamber.
M84 is double action replica, so you can shoot with hammer cocked, or not cocked, as long as a cartridge is in the chamber.
Firing action is nice :-) Cartridges fly to the right, sparks and smoke can easily get outside as the barrel is not only short, but also (partially) open. Sound of metal moving and clanking on metal is something you won't find on an ABS or HW modelgun :-)
After shooting remember to clean replica and cartridges.
Problems
There is nothing really wrong with this model :-)
Nit-picking starts here. I have already noted some slight finish issues inside trigger guard, but a bit of polishing (careful not scratch other parts) takes care of that. Slide does not always lock after the last shot, but it quite frequent with modelguns. As this modelgun is made of metal, and in some places (due to different metal type) it corrodes more easily than plastic. One of grips on my M84 shifts a bit due too large tolerance, but it is easily fixed. Spare parts availability could be an issue, as WaShan is not that much available outside of Taiwan (yet?).
Basic disassembly
WaShan Beretta M84 disassembles like the real gun:
remove magazine

make sure chamber is empty

push pin of take down lever from the left side, then flip lever itself down

remove slide to the front

put away frame

remove return spring and spring guide from the slide

remove barrel from the slide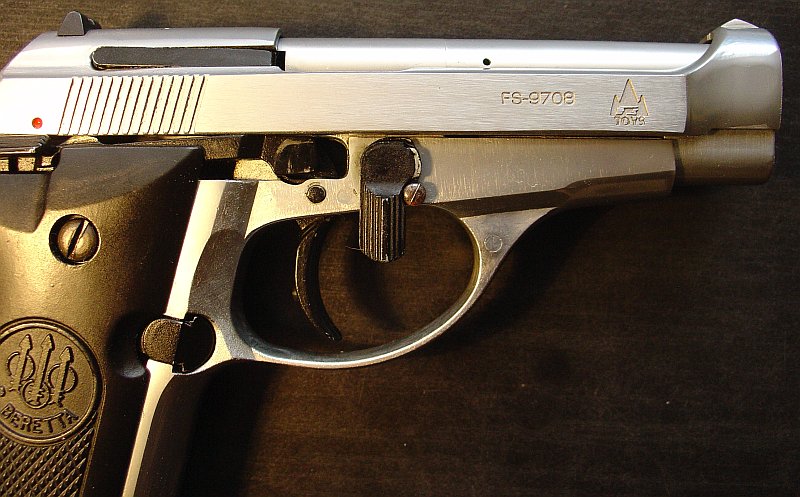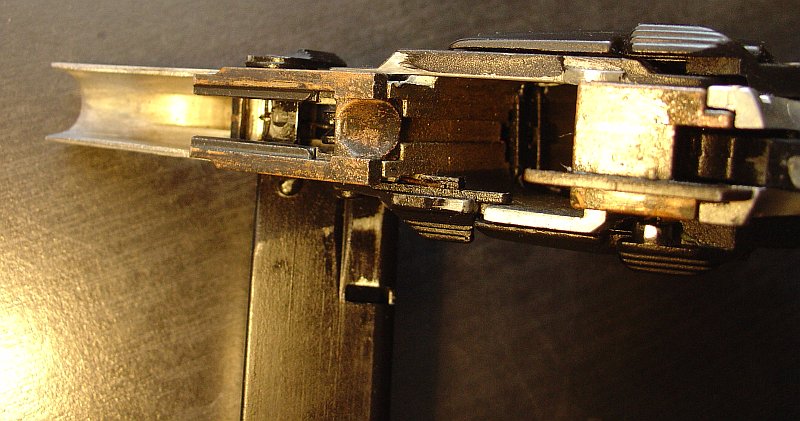 Now it's cleaning time. Make sure to clean frame (slide rails, hammer area, magwell area), as well as slide (especially breach block). Take time to clean the barrel, pieces of punctured caps like to gather here. As far as I could check it is NOT POSSIBLE to remove detonator pin, even if manual shows that it can be unscrewed and removed.
The next thing to clean is magazine: lips, follower and area around the top can have cap residue deposit. Now for the cartridges...
Dry everything. Most parts are not steel, so they don't rust, but mag follower, detonator pin and chamber, ejector and breach block like to develop some reaction that changes their surface (it's visible at the photos).
Put everything back together. There is no hidden surprises as far as I know, just follow the opposite order.
The following pictures show barrel details - marking with (serial?) number (normally hidden by the slide), chamber with detonator pin, sealed exit part - not very visible from outside, unlike some Japanese metal models (M712).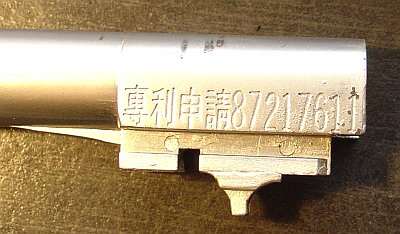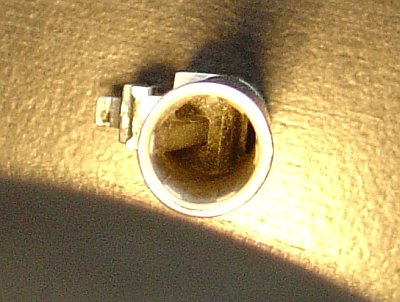 Slide disassembly
For those of you who would like to dissassemble even more, it is possible to remove extractor claw from the slide (push out its pin, remove). Picture 3) from instructions shows how to do that:
Breach block is held in place by a screw that goes through slide into rear sight. If I remember correctly it can be unscrewed and removed, too.
Overall
WaShan Beretta M84 is a very nice modelgun. Full metal, heavy, well made, works satisfyingly well. It is worth having just to see a WaShan manufactured replica, or e metal replica. Overall it is the opposite to Marushin Browning ABS - light and fairly unrealistic.
I can definitely recommend this model for its huge fun factor :-)
(edit: added pictures, corrected some details || added info about wataru conversion || clarified cartridge difference based on Cerwyn's info || corrected info about grips || added magazine photos)