Most pictures kindly provided by ldr.History
One of the largest pistols used nowadays, Desert Eagle, was initially designed around 1979 by Magnum Research. The final improvements were done by Israeli Military Institute (IMI). It was available in a few calibers, the most famouse being, of course, .50AE. Pistol is used for hunting (!) and sports shooting, it's military use is unclear.
Desert Eagle became famouse due to use in movies such as Robocop, Commando, Matrix or Desperado.
Wikipedia information about IMI Desert Eagle:
http://en.wikipedia.org/wiki/Desert_Eagle
More information about real gun:
http://world.guns.ru/handguns/hg16-e.htm
And a few Japanese pages about Desert Eagle modelguns:
http://web3.incl.ne.jp/shiraaya/hudson-de50.htm
http://web3.incl.ne.jp/shiraaya/hudson-de44.htm
http://homepage3.nifty.com/nkoinuma/IsraeliH.htm
Modelgun
As Desert Eagle is so popular, many replica versions have been released to the market, ranging from dummy replicas, through pellet guns (Digicon, Umarex), airsoft gas blowbacks and springers (HFC, KWC, TM) and finally - a modelgun.
Hudson was the brave company that decided to release Desert Eagle as a modelgun. There were several variants: black or chrome, ABS or HW, .44 or .50. There was even a gold-plated limited version.
I have a Tokyo Marui airsoft gas blowback version of Desert Eagle, it was one of my first two replicas. Upgraded since with a metal slide and frame set, it is an intriguing model - just too large to hold comfortably, heavy, looking almost like a parody of a pistol, maybe something made by movie designer just for effect.
Acting on an impulse I got a Hudson modelgun Desert Eagle, too =)
Box
Box is not a plain cardboard one. It is blue, with white text on top and at the sides. The bottom part is made of styrofoam, with cutouts for the content.
Inside box you should find a model with magazine, instructions and box with 6 cartridges.
Instructions are very good - four large pages, with plenty of pictures. There is an exploded diagram, parts list, cleaning instructions as well as complete disassembly steps. Interestingly enough instruction mentions only .44 version, while the box is marked ".44/.50 Series" and modelgun itself is marked .50.
Apart from instructions there is also a registration (?) card.
Modelgun
Pistol is... bulky. This is the first impression when you see a Desert Eagle, and it only gets better when you try to take it in your hand. I have normal-sized palms and I can hold it just ok, but not extremely comfortably. Grip is very thick - it has to hold those huge .50 cartridges!
Model has a moderate weight. It is heavy enough for a modelgun (especially with all cartridges loaded) but at the same time is feels a tad too light for its size.
Hudson DE models had at least two marking types. The old one had the same trademarks as on original IMI DE. At some point in time Hudson got in trouble with that and had to change to "Hudson Eagle .50AE PISTOL", "HUDSON INDUSTRY CO. LTD (H.M.T.)" on the left side of the slide, and "MUGNUM HUNDCANNON, MINNEAPOLIS MI." and "MADE IN JAPAN" on the right side. For some reason this looks very low-cost, just like on cheap airsoft guns that feature such "treadmarcs".
There is also "MFG HUDSON" engraved on the right side of frame, just above grip panel.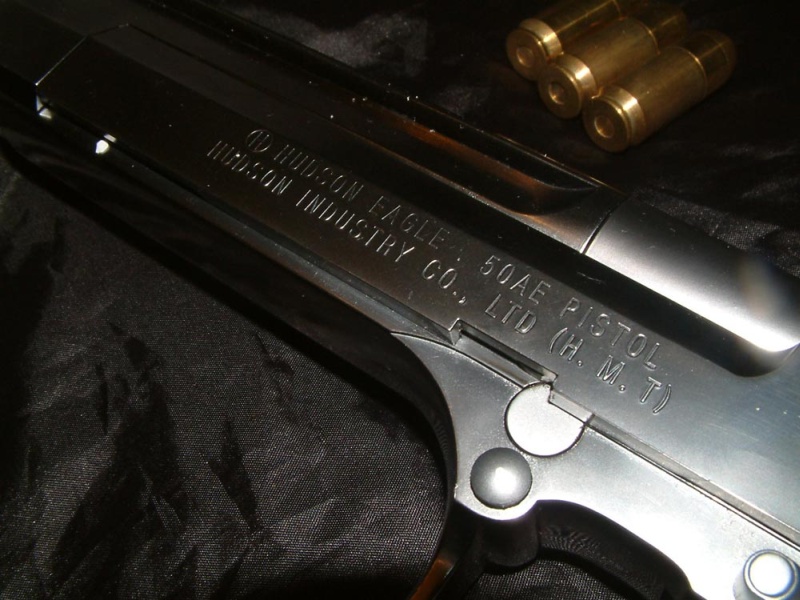 Left side features slide lock lever, safety switch, mag release and push-pin lock for takedown lever.
Right side has a safety switch as well (it's two-sided), plus takedown lever itself.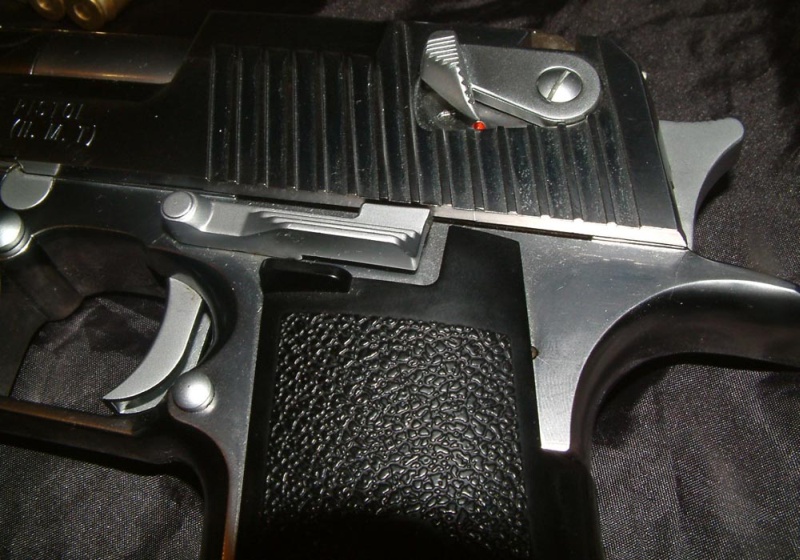 Slide has typical simple sights on top, dovetailed. Mine had the rear sight a bit loose (it is held only by friction), so I have added a drop of a thread-locking liquid (from Loctite I think) to keep it better in place.
When you cock the slide (most likely using safety switch levers), you will notice that it splits in two parts. The front part, with barrel and chamber stays in place, while the back moves on its rails, cocking the hammer along the way.
There is a rail near front, at the top of the slide, you can mount an optical sight or some other device on the pistol, making it look even stranger ;-)
And do not forget the muzzle!
Safety switch will only work when hammer is cocked. Trigger still moves when safety is engaged, but it is disconnected from hammer.
Grips are black, plastic, a bit ugly, and they squeak - just like on airsoft model ;-) They are marked with a non-usual Hudson logo over a lightning, in an imitation of the original IMI logo.
Magazine
Magazine is released with mag release ;-) It should spring down by its own, as follower pushes off the bolt.
Mag is large, solide, made of metal. It is also very large, as it has to accomodate very large cartridges.
Putting it back in place is easy, there is a lot of space inside the grip, nothing interferes, the lock works with a positive "click".
Construction of the magazine is typical: single metal sheet welded at the back, spring and follower inside, metal plate at the bottom.
Capacity: 6 rounds. Mag is actually marked up to 7, but I was never able to insert the 7th in there. Probably magazine is .44 version, while I use .50 cartridges - there is a similar problem with magazines in MGC Beretta 92/96 (9mm vs .40).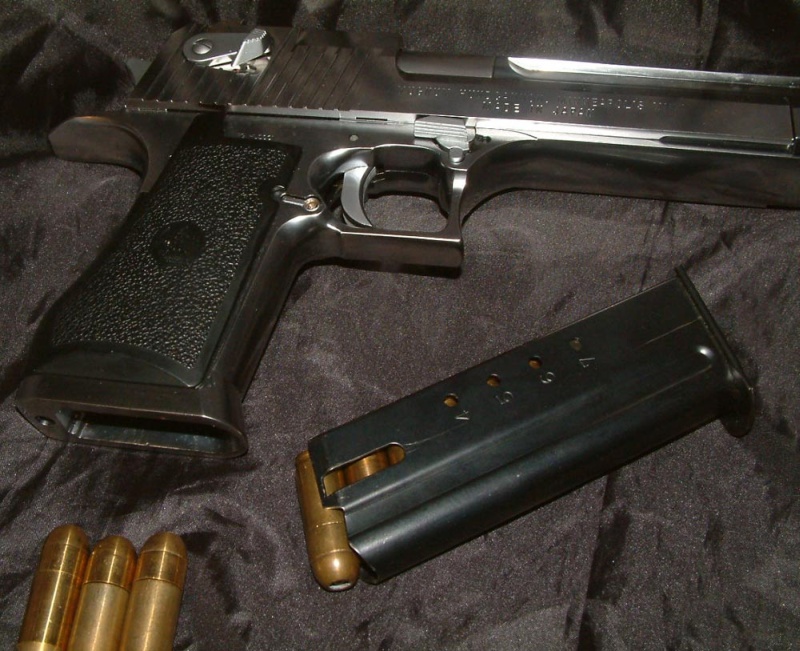 Cartridges
These cartridges are HUGE :-) Right next to the Automag ones these are the largest and heaviest among pistol cartridges. I think only CMC/Tanaka/CAW Mauser 98k has cartridges that impressive - heavy and long, but thinner.
Design is almost identical to MGC .45 cartridges: two parts that can be unscrewed in the middle, with a removeable bottom plug, a cap that goes on top of plug with charge facing up, firing pin with o-ring. Firing pin is different from MGC ones as it has a hole in the middle.
They take a single 7mm cap, enough for the blowback action.
Picture below shows a massive DE cartridge next to a P08 Luger catridge.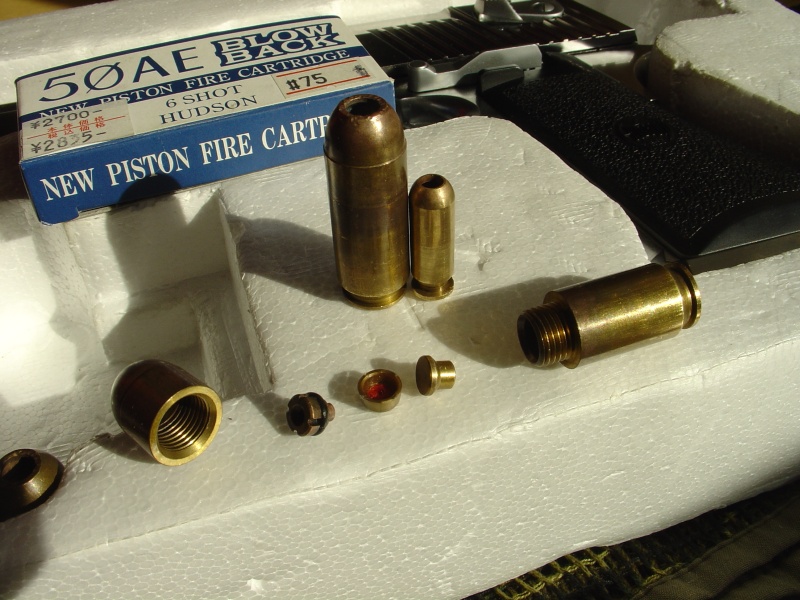 Firing
Do the usual loading thing with caps, cartridges and magazine ;-)
Rack the slide to load the first round, take aim... (note: this is the last moment to check that you have a clear space where the cartridge will fly out - it is heavy and can do a lot of damage!)... carefully squeeze the trigger and... BAM!
Repeat :-)
Performance is pretty good. I guess that MGC cartridge design is quite fool-proof. I was very satisfied with how this model fires.
Initially I had some issues: stovepipes and one case of slide moving back so little that it didn't even pull the cartridge out of chamber. Inspection of the cartridges revealed that some o-rings got damaged when I removed them for cleaning. Don't use a metal screwdriver as an aid for removal :-/ I replaced these with fresh MGC .45 o-rings, and with the fix in place there was no more surprises.
Barrel only has a metal tab, typical for plastic modelguns, otherwise it is open.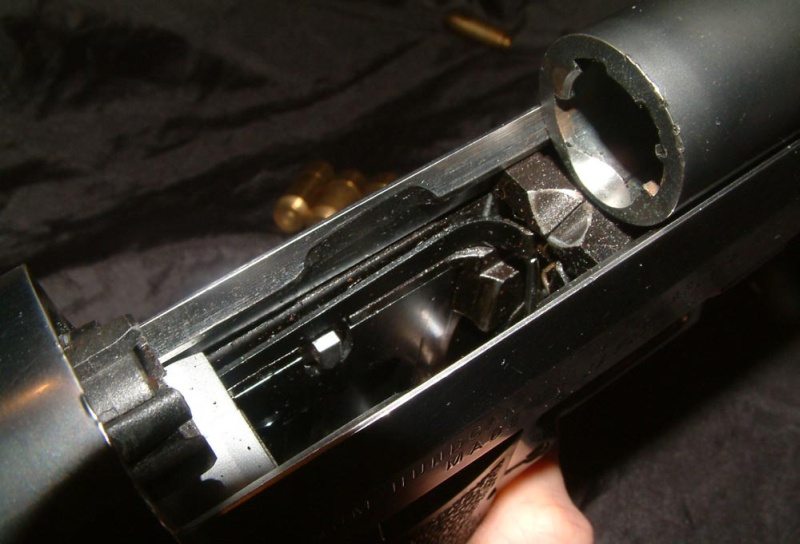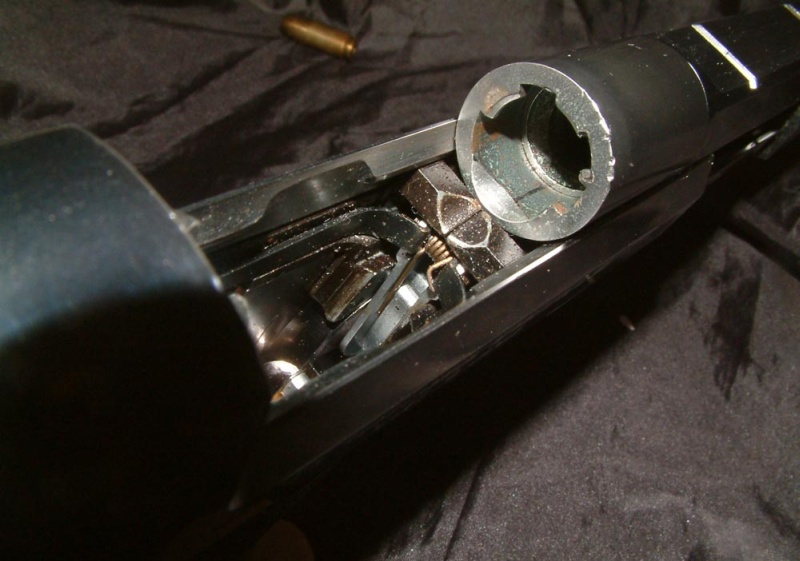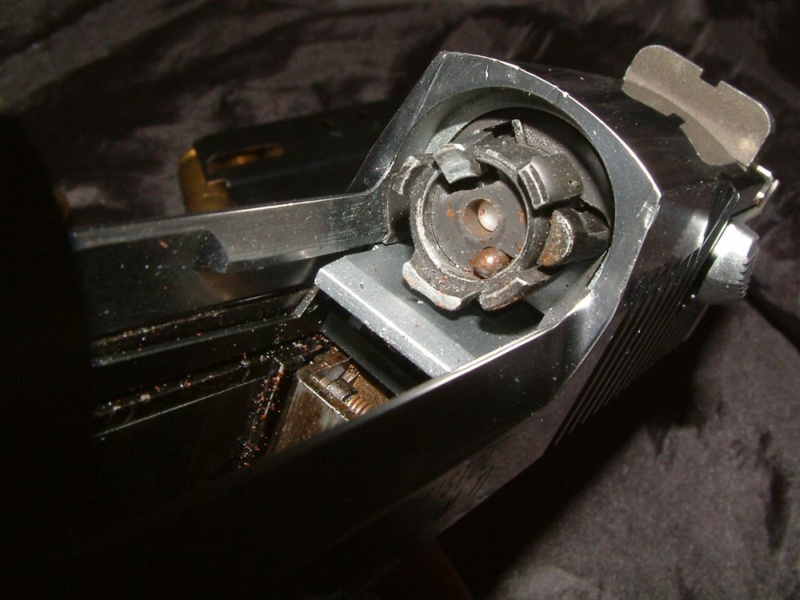 Problems
I don't think this model has any significant design problems.
There is only one real issue I found so far - hairline cracks on the hammer heel. Not sure what is the reason. Could be just material fatigue, could be from hammer hitting it while being cocked after a shot, or maybe the model hit something. There were also hairline cracks near grub screw that holds firing pin (see disassembly). This could be from stress put on detonator pin by detonating cap, as part of the force probably transfers on the grub screw itself, and then on threads and hole where the screw is. Just a theory.
Other than that - as the cartridges are large and heavy, a stovepipe or other extraction issue might damage area around chamber entrance. However, it is typical for modelguns and part of the hobby - and it does not seem to happen when cartridge is in good condition.
Compared to many other modelguns these are not significant problems, especially for a Hudson model.
Remember about ergonomy - this is a large pistol that could be difficult to grip and handle (but it will make you feel more manly ;-) )
Markings on this newer release are not realistic, so if you want to get better ones look for an older version.
Basic disassembly
It's fairly easy process.
remove magazine

ensure that chamber is empty

on the left side push pin securing takedown lever into the frame and hold it in this position

on the right side turn takedown lever down. At that point both parts of the slide will spring forward.

remove front part of the slide - if you move it to the front, you should see a cutout in the other part. Aligning parts will allow you to just pull the front part up, without using any force.

remove to the left the black pin that holds chamber collar to the chamber.

slide chamber collar from the large part, use just a bit of force.

inspect underside of the front part - there is a grub screw (hex head) in the middle. Unscrew it.

detonator pin can now be removed for cleaning.
This completes the basic disassembly required for cleaning.
You can now use water and q-tips to clean insides of the barrel (remember to dry everything!). Detonator pin should be also cleaned and dried (it is steel). Remember to also clean the grub screw which holds this pin, as it may accumulate deposits due to being so close to all hot gases.
Reassembly follows the opposite process.
Back of the slide can be also easily removed by sliding it forward. Putting it back is a bit more tricky due to springs and other parts sticking out in the way, but it is doable without too much sweat. I will update the procedure at a later date.
Overall
Desert Eagle is an example of Hudson model that just works. It does not seem to have such performance issues as other models. Design is pretty good and satisfying.
If you are into large pistols, this is something for you :-)