History
Mr Browning designed not only military and civil pistols, but also sporting ones. In 1917 he developed Colt Automatic Target Pistol, a .22 LR caliber pistol for target shooting. In 1927 "Woodsman" was added to the name. Pistol was manufactured until 1977, changing its appearance over the years. There were three main series. The original ran from 1917 until 1947, and it looked quite different from the modern ones. Long barrel was round, grip was angled, back of the slide looked similar to Colt .32. Second series lasted until 1955, introducing magazine release button behind trigger guard. The third series was manufactured until 1977, it relocated mag release back to bottom of the grip.
Every series had three models: Sport (4 1/2" round barrel), Target (6" round barrel) and finally Match Target with a distinct flat-sided barrel (4 1/2" or 6").
Plenty of information about these .22 Colts can be found there:
http://www.colt22.com/
Modelgun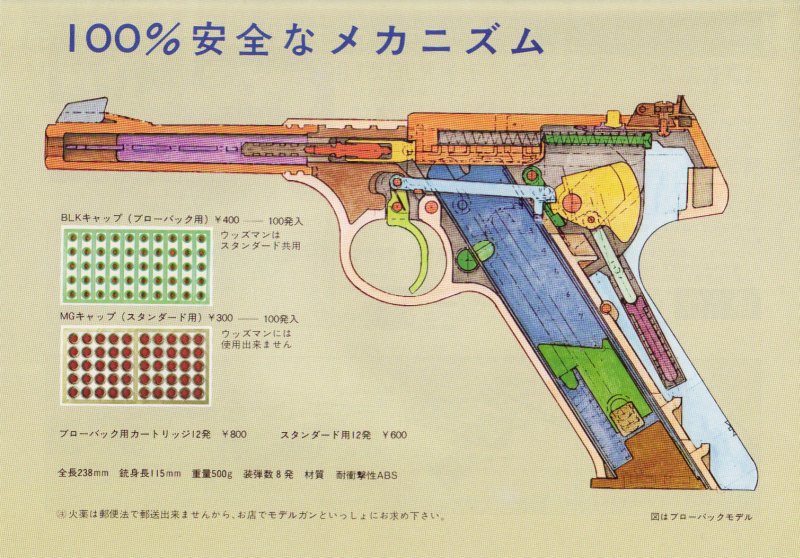 I didn't even know that there is such pistol as Colt Woodsman, not to mention its modelgun. I've actually learned it through this forum, when one of members put up his model for sale. Puzzled by an unknown model I did some research and found that Colt Woodsman was surprisingly popular among modelgun makers!
It seems that this pistol was used by main hero in a Japanese manga "Wild 7", perhaps that's why it was picked up by modelgun industry?
MGC released Colt Woodsman as the first plastic cap modelgun. Actually it had to be initially released as paper-cap firing because of delay in production of the first plastic caps. There were ABS and HW versions of Match Target and Sports versions, with various barrel lengths. HW was released around 1990, when this material became very popular. Also cartridges have been redesigned from BLK to CP-HW system. There was also a limited release of "Heavy Barrel" version.
Marushin produced a metal version of Match Target (not cap-firing as far as I understand), and Kokusai did an ABS Match Target.
MGC's ABS version was available as a factory-made or kit. It was also exported and sold under RMI mark. Export version did not have any Colt trademarks and Colt logo was removed from the grips.
While relatively unknown and uncommon in the West, perhaps because it is not a movie weapon, Colt Woodsman is available quite regularly on Japanese Yahoo Auctions, in many variants.
More information about these modelguns:
http://homepage3.nifty.com/nkoinuma/Woodsman.htm
Version that I have is an export version from Collector's Armoury and was originally an ABS kit. It represents second series Colt Woodsman Match Target, with a flat-sided long barrel. I got it already in assembled form.
Box
Box is very large, which seems to be a common feature to kits. It is made of carton, featuring plenty of text on the outside. It is very clear that this is export version, as it is marked with Collector's Armoury logos and a lot of "American" warnings to keep model out of reach of children, do not put it in your nose, do not attempt to eat it and the most important one - that Collector's Armoury is not liable for any damages, direct, indirect, implied, consequential and whatever the lawyers could have thought of.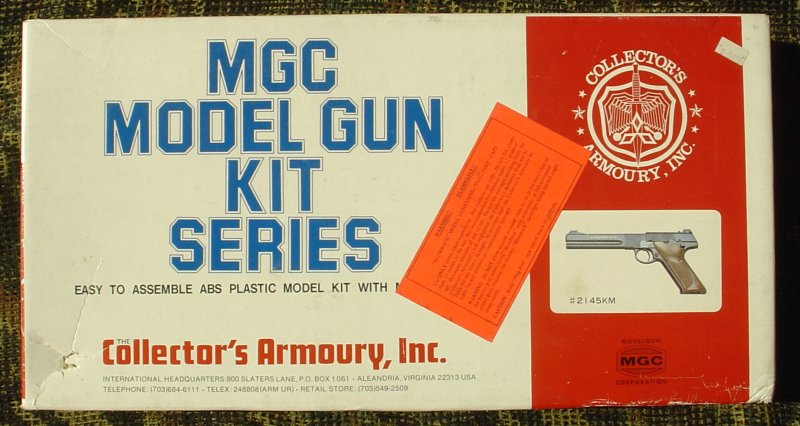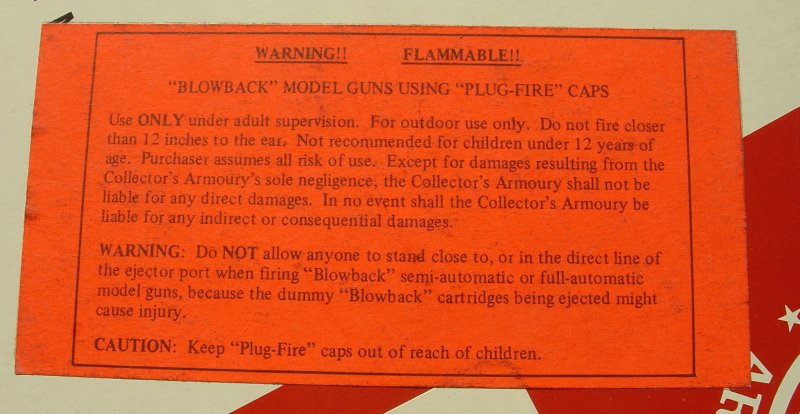 All that was left inside the box after assembly is the modelgun itself, with a magazine and a few cartridges, as well as sheets of paper. One of them is yet another round of warnings, this time that Collector's Armoury will not be liable should you try to use modelgun as a firearm.
I find it amazing how deviated law system is in USA, making people seem to be stupid throught use of such warnings, while these are put there just for legal reasons.
The second sheet is instructions how to use cartridges, but surprisingly it bears Marushin logo and describes PFC cartridgs, while modelgun itself is MGC and uses simple BLK cartridges. It is possible that paperwork originally came with another model and just got mixed-up in this box.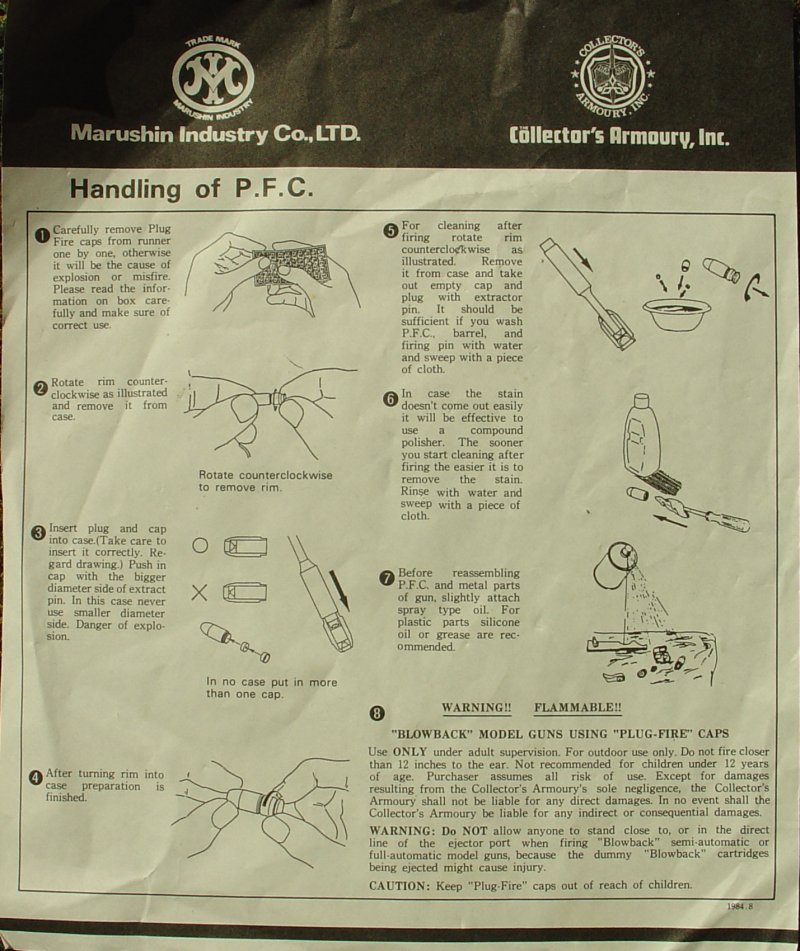 Modelgun
Shape is strange, something I have not seen yet. Back of the slide is a tiny bit similar to Colt .32, but everything else is just different.
Front part of the model is flat on the sides, but with circular indentations. It's best seen on photos, my English is not up to task of explaining that. On top there is a front sight, and barrel sticks out of the front. Left side is marked "MODELGUN CORPORATION TOKYO JAPAN", it is almost the only text on this model, except for a serial number "79110" on the right side, and "Cal. 22 LR" bottom of the magazine. This front side of the pistol does not move, it's not as a slide in normal pistols. Only back part of the slide actually moves back, exposing chamber.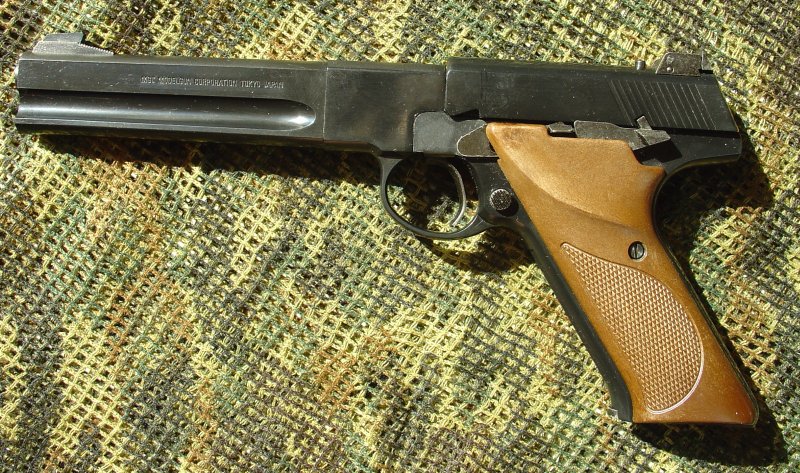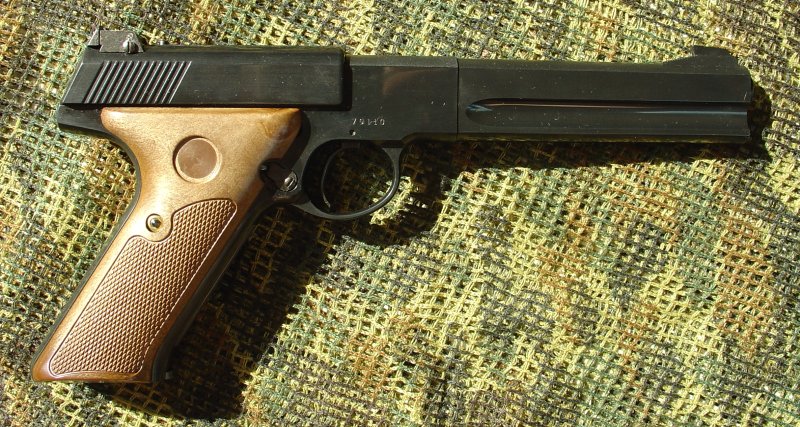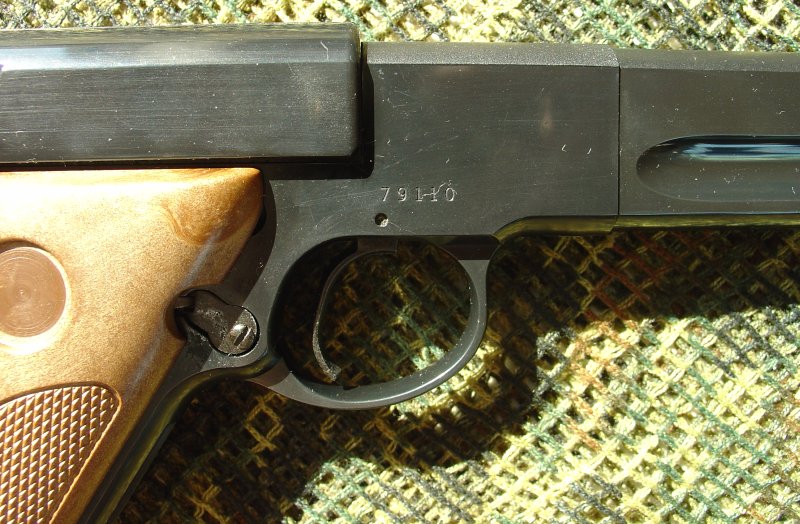 Back part of the slide is serrated for better grip when cocking, as often with pistols. Elaborate back sight sits on top of it, with adjustment screws making sure that you can target it properly. On top you will find a disassembly, just in front of the sight. Do not press it during normal operation! Use of the button is described in disassembly section.

It took me a while to realize what is "problem" with this slide - there is no ejection port! Because the back part moves away from the front part, there is a large gap between them that allows ejecting spent cartridge after the shot.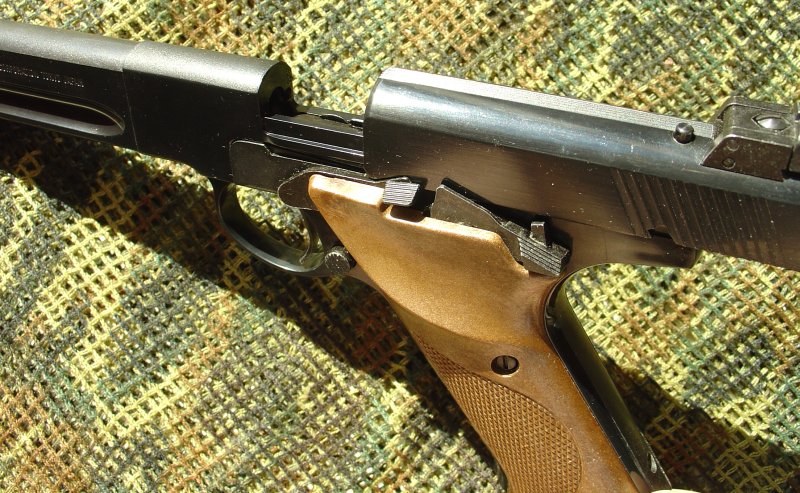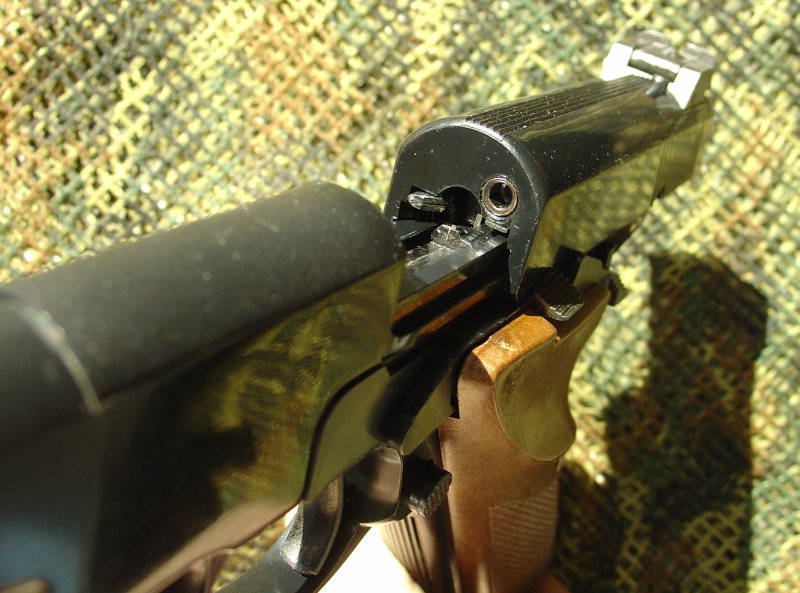 MGC Colt Woodsman is very light, being made of ABS. It is also very shiny for the same reason, putting it in the same realism class (at least for me) as Marushin Browning or Marushin Xabungle. Only minor parts are metal: trigger, back sight, levers and some internals.
Left side of the pistol features all controls. Being the second series it has a magazine release button just behind the trigger guard. Above the grip you will find slide metal lock lever and safety lever. Slide lock works in the usual fashion, going up and holding slide open after the last cartridge. Safety lever seems to have two functions - it physically engages slide, making it impossible to pull back (cocking and introducing a bullet in chamber), as well as disconnects trigger from hammer - you can still press trigger, but a cocked hammer will not fall.
Grips are light brown, and obviously plastic - like original Woodsman! A single screw going through the frame holds it all together. They are shaped a bit more than usual pistol grips, but nothing like elaborate works of art that sport pistols seem to have instead of grips. Right grip has an empty space where Colt logo would have been in Japan domestic version by MGC.
Magazine
Magazine is metal, with a cutout in the side and a button that you can pull down to help loading cartridges. Loading proces is not so easy - cartridges often either fall inside not in correct position (too angled) or block in the entrance (not enough angle). After some words of encouragment this process can be completed successfully.
I'm not sure about full capacity, as I have only 6 cartridges.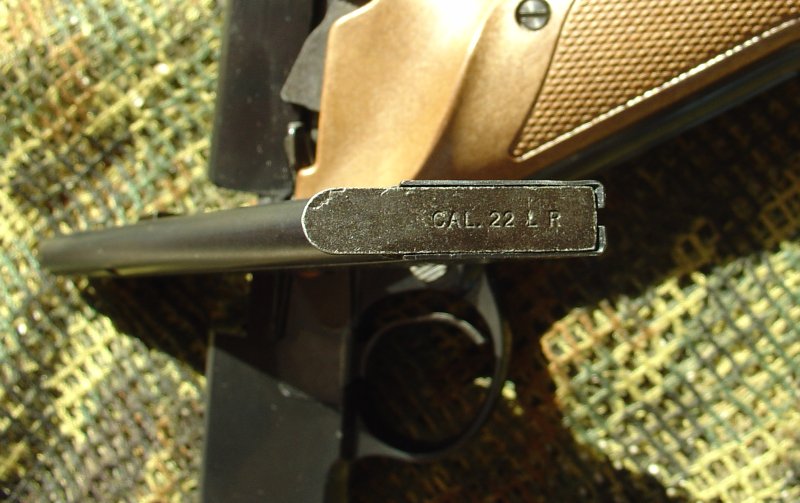 Cartridges
This Colt Woodsman belongs to the early ABS models and it uses the original BLK (blowback) cartridge system. Cartridge consists of an empty shell, with a small hole in the bottom. There is also a round metal piece that is pushed inside from the top, followed by a 5mm cap facing outwards. Hole in the bottom helps to remove cap after firing (or unload cap without exploding it), you just need a thin long rod to push it out. Preferably wooden stick to avoid scratching walls of cartridge and making blowback action less effective.
This is a simple, yet effective design that works very well in such a small cartridge.
One of cartridges that I have is currently not usable - it suffered a crash described in "firing" section. This shows that design is fragile due to design for .22 model (small size, thin walls).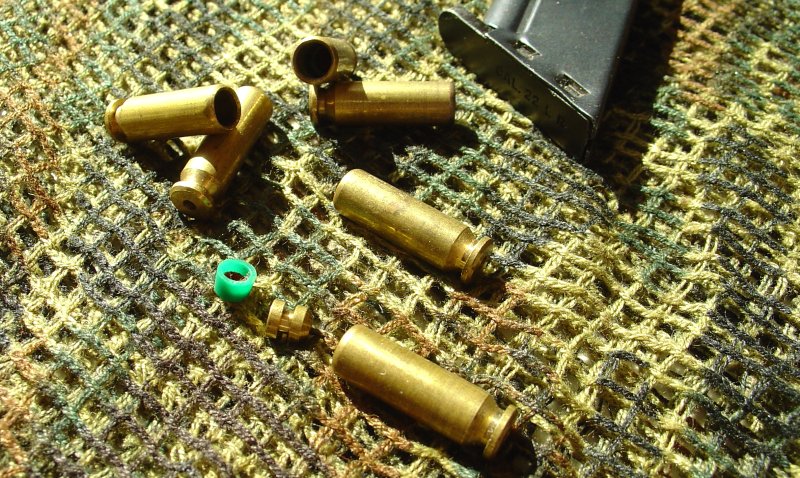 Later versions (HW) require different cartridges using CP-HW system. Please note that when planning purchase.
Firing
Colt Woodsman is surprisingly good for firing! :-)
Load cartridges with caps, put them in the magazine, insert magazine to the model. Make sure that safety is off, pull back and release slide to introduce the first cartridge in the chamber and to cock the hammer.
Point model in a safe direction... remember also about ejected cartridges - they will fly to the right, slightly upwards.
BANG!
OK, original Colt Woodsman is .22 LR which is supposed to make so little noise that you don't even need ear protection. If this feeling moved to modelgun, you will be surprised - MGC Woodsman uses the same 5mm caps with the same power as larger models, and effects accompanying firing are similar to them, too. Bang is not too loud, just right for indoor use. Blowback action is AMAZING however, with very strong and crisp movement that you definitely feel.
What caught me unaware was that the tiny cartridges are violently ejected about 4 meters away (a record for all my models), almost touching the ceiling (ok, just the lamp ;-) ), and crashing heavily on surface of a table. Fall was so hard that the cartridge has deformed itself and now does not even chamber in the model - correct hole dimensions and geometry is critical to work with detonator pin in the chamber in BLK design.
After adjusting my surroundings so that cartridges were caught in something soft, I proceeded to shoot remaining cartridges without problems, enjoying every shot.
Remember to clean both model and cartridges after shooting, as soon as possible. Critical areas are detonator pin (has to be removed) and cartridges - tight tolerances are required in BLK design for correct operation and even small amount of residue can cause jams. Also clean top area of magazine (you will discover necessary area as your cleaning tool becomes brown) and area around the chamber. For disassembly instructions please see appropriate section.
Problems
This is a fine modelgun that does not have real problems. Firing mechanism, as usual in MGC models, is well designed and just works. You might get an occasional stovepipe, which .
Cartridges are delicate enough to take extra care of them - if the fall on something hard, they will deform!
ABS material can be quite fragile. It is not only old, but also from beginning of usage in modelguns, when not all manufacturing problems have been corrected. As Woodsman has very strong action, it can be also more prone to cracking. Still, I enjoy shooting this one so much that I don't think about cracks.
Basic disassembly
Disassembly of Colt Woodsman is also unusual. Until I received manual I was not able to figure out how to do it correctly.
Please refer to the following thread for disassembly and cleaning instructions.
http://mp40modelguns.forumotion.net/modelgun-stripping-and-rebuild-guides-f12/mgc-colt-woodsman-match-target-abs-disassembly-t2324.htm
Overall
MGC Colt Woodsman is something different when it comes to modelguns. It's nothing we know from movies, you will probably not impress anyone with this strange looking pistol, but it has advantages of its own. Mechanism is good, and firing performance compensates for plastic looks and light weight.
If you feel a need for a model a few people recognize, this might be an idea for you.
PS: thanks to HIGUsan for manual and additional information about this interesting model.