History
Beretta 90 series pistols have been designed in 1972 and released in 1975. Basic models were 92 (caliber 9mm), 96 (.40 S&W) and 98 (9x21mm) - same looks, just different calibers.
Over the years several variations were developed: "S" (Safety) with slide-mounted safety/decocker (instead of one at frame), "SB" (Safety & Block) made for USAF with an additional firing pin block, "F" (Federal) with modified trigger guard and finger rest, "FS" with additional mechanism to stop slide from flying off the frame (due to use of overpressure ammunition by Army).
US military version of Beretta 92F got "M9" designation, with its later update 92FS = M9A1.
Beretta 92 with all its variations is one of the most ubiquitous pistols that you will find used in movies and by armies all over the world.
Wikipedia information about :
http://en.wikipedia.org/wiki/Beretta_92
More information:
http://world.guns.ru/handguns/hg07-e.htm
Modelgun
Huge popularity is also translated to variety of modelgun versions. Suzuki first, followed by MGC, and Marushin (as well as their ACG brand). After closure of MGC their molds were bought by Tanaka, who released their own model. All of these models were plastic, because Beretta 92 itself came to be after changes in Japanese modelgun law. The only metal cap-firing model is produced by WaShan.
You can choose from a variety of makers, versions, materials (ABS, HW, SRH, metal), finishes (black, silver, chrome). I think this is the most popular modelgun today, even more popular than Colt 1911.
List of various model Berettas:
http://homepage3.nifty.com/nkoinuma/Beretta1.htm
Information about MGC Beretta 96:
http://web3.incl.ne.jp/shiraaya/mgc-beretta-m96.htm
See also Beretta links on this page:
http://web3.incl.ne.jp/shiraaya/2-mokuzi.htm
Somehow Beretta 92 was never my favourite. I did not like it's shape and fact that it is so popular ;-) I have cheated myself by getting a 96 version from MGC, which is, of course "totally" different from 92. I was not disappointed, MGC did a splendid job with this model!
This particular piece was released under "Shin Nihon Mokei" (SNM) brand after original MGC collapsed.
Box
Box is made of carton. The top part is dark green, with white picture of a pistol and text explaining contents: "BERETTA PISTOL SERIES SEMI AUTOMATIC CP-HW BLOWBACK SYSTEM" and additionally "REAL SIZE CARTRIDGE with CP-HW real size cartridge" (yup, double). There is also information about legally used Beretta trademarks (licensed to Western Arms). Box has additional markings on the sides, including checkbox for actual model inside: 96 in this case.
Bottom part is white, but only on outside. Inside there is an unusually red carton insert, with space for pistol and cartridges. Apart from cartridges there is also a manual, registration card, cartridge loading tool and tiny hex keys.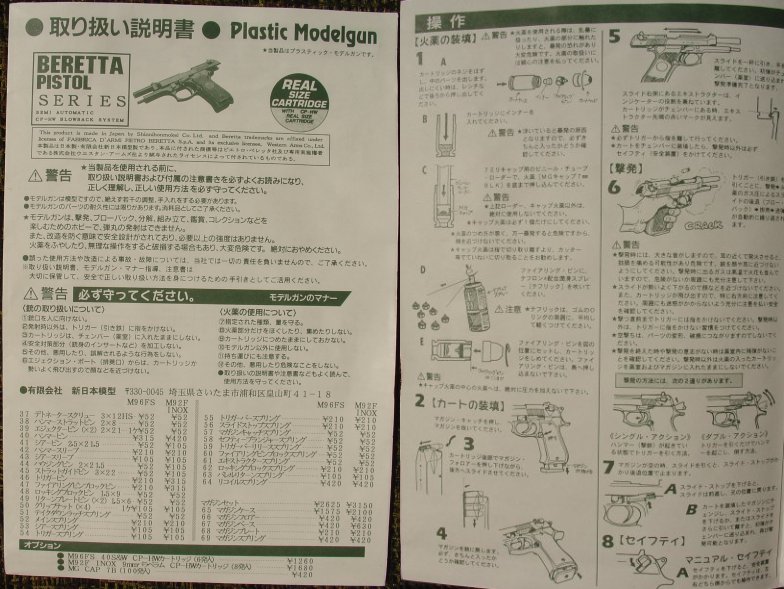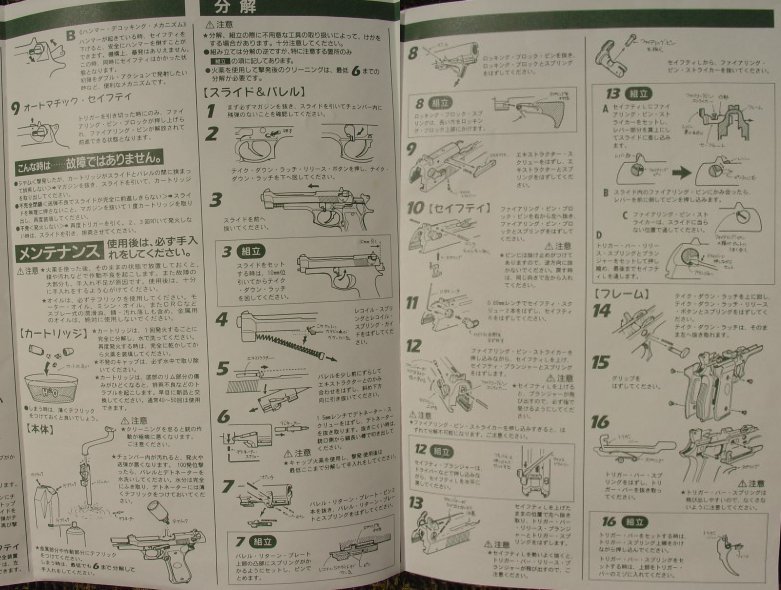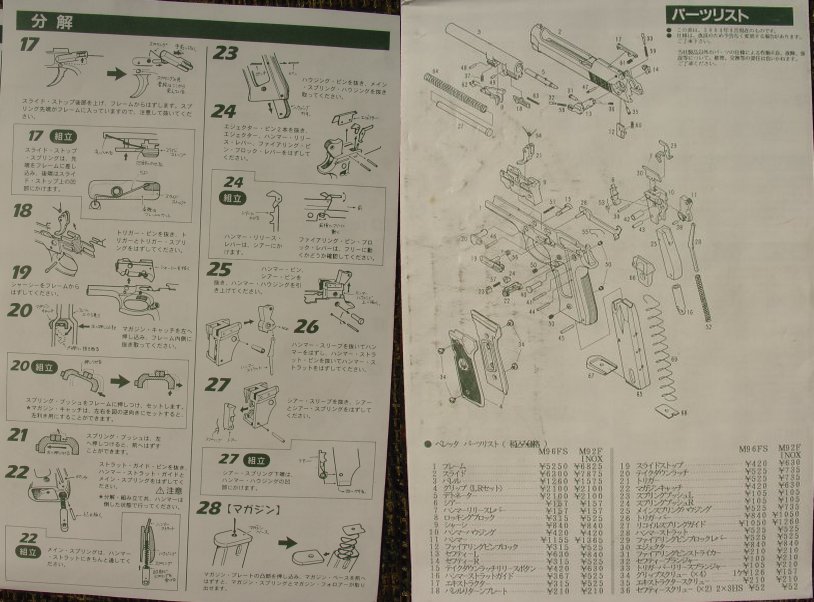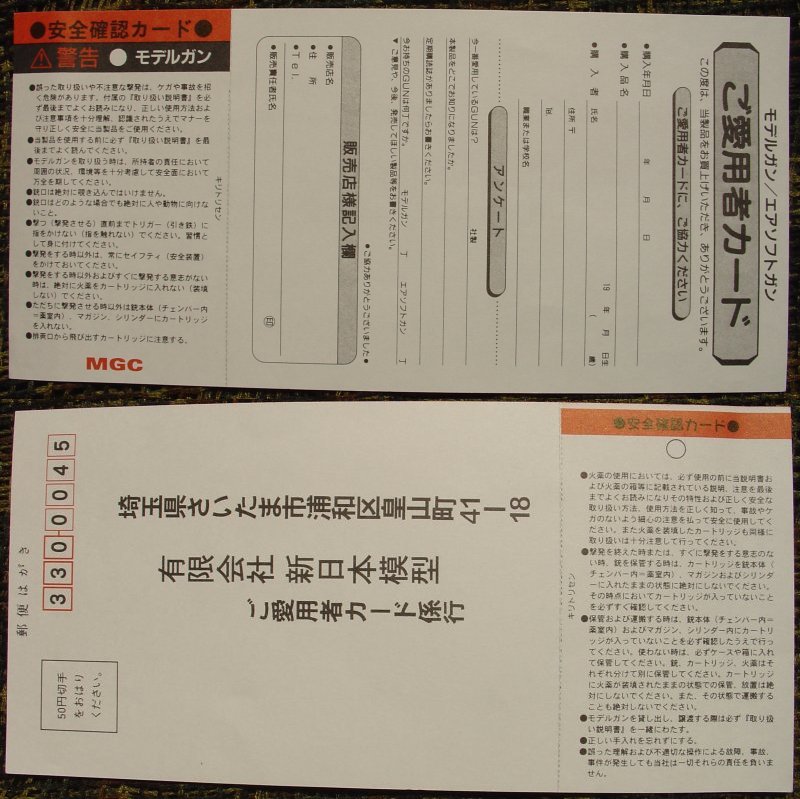 Modelgun
Even with all my dislike for Berettas, I can only say that this model is COOL!
It's made of HW, so as you start to pick it up you will immediately notice how heavy it is. Fits in hand very well, a solid piece this one!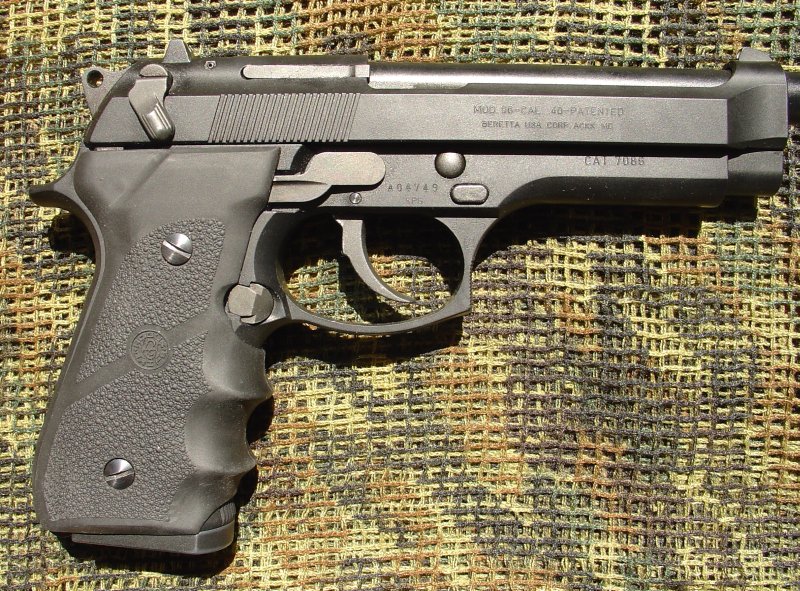 Grips that are currently installed are Hogue rubber grips, not MGC ones. For more information please relate to this thread:
http://mp40modelguns.forumotion.net/modelgun-accessories-f9/snm-mgc-beretta-92-96-fitting-hogue-rubber-grips-t2307.htm
MGC used black plastic panel grips, held by two screws each. They were checquered and featured original P.Beretta logo in the middle. Top screw goes right along the checquering line, and if you look at real Beretta pictures the slot in screw is usually aligned horizontally to form a line. Details count :-)
Bottom of the grip features a loop for a lanyard. I do not know why, but such holes (find in many pistols) make me wonder of soldiers constantly loosing their pistols and being able to find them only by pulling the lanyard.
Trigger guard has a shaped finger rest at the front, making it "F" or "FS" version. I admit that I preferred the old design, with rounded trigger guard.
Behind the trigger guard you will find a magazine release button, location is usual for modern pistols.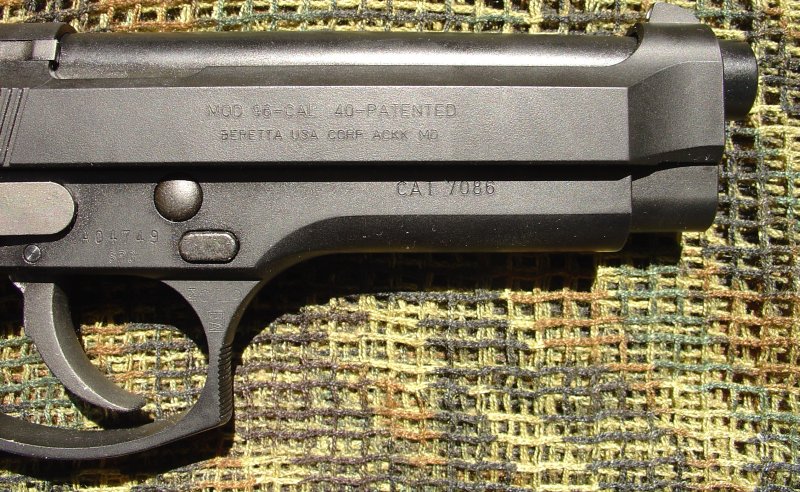 Except for trigger itself there are three controls: disassembly lever (over front edge of trigger guard), slide lock lever (over the trigger) and slide-mounted safety lever. There is also an exposed hammer sitting behind the slide.
Safety lever can move to down (safe) or up (fire) positions. When up, a red dot is also revealed. Left side of slide where safety lever moves has interesting detail: "wrinkles". I have no idea if they are copied from a real pistol, I haven't seen it in other manufacturers' versions.
Lever doubles as decocker - when hammer is cocked, moving lever from fire to safety position will decock it, also disconnecting firing pin from hammer. In safe position pulling trigger will make hammer fall a tiny bit before it falls harmlessly without activating firing pin. If you inspect back of slide, you will notice that safety lever actually flips part of the firing pin up, so it cannot be pushed by hammer at all. This works quite safe. You can also rack the slide back while in safe, hammer will just fall back after you do it. No fire even if cartridge gets loaded.

The last control on the left side is disassembly lever, covered in appropriate section. On this photo it is in ready-to-remove-slide position = down.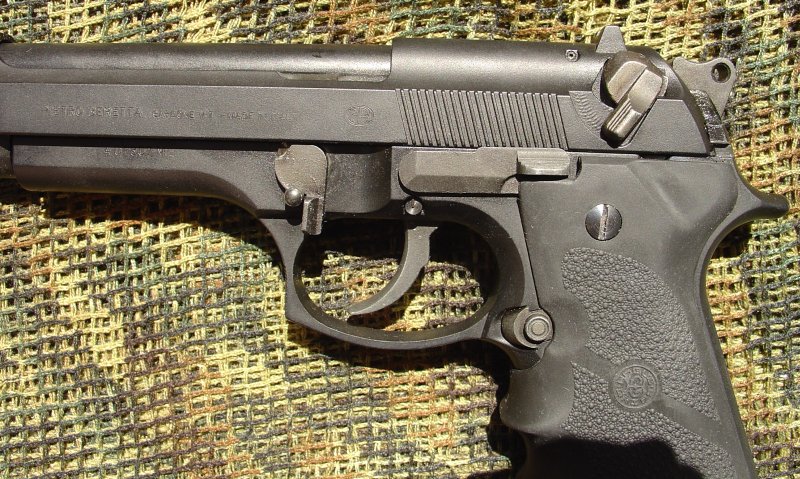 Slide is typical for Berettas in shape. Front near muzzle, barrel extending past the slide, and finally large coutout at the top make this pistol a distinctive Beretta, similarly to 84 and 1934 models. Slide has typical serrations to aid cocking, near its back.
There are also markings, of course: "PIETRO BERETTA GARDONE C.T. - MADE IN ITALY" and "PB" logo on the left side, "MOD.96-CAL. 40-PATENTED" and "BERETTA USA CORP. ACKK MD" on the right. Frame bears some serial numbers (?): A01307M in the left, "CAT 7086" and "A04749" on the right, with "SPG" (Safe Plastic Gun) just below this last number. Top of the barrel, visible through the slide is marked "CAL. 40".
Both front and rear sights are fixed (molded with slide). Both have a single white painted dot, instead of more usual two-dot marking on the rear sight.
Slide is equipped with a metal extractor. It has a red strip painted near the claw - theoretically when a cartridge is chambered, it will stick out. In practice extractor is raised too little to show, at least in this model.
Barrel is blocked in a typical way, with a metal insert.

Magazine
Magazine sits in the grip, in a usual position. It is black, made of metal, with a bottom that stays outside of the grip.
Magazines for M96 and M92 are different, even if they look almost the same. Due to .40 cartrdige size M96 has lower capacity: 11 cartridges, instead of 15 for M92 mag. Also shape of the lips is probably different - M92 magazine does not seem to always feed correctly in M96.
You can distinguish two types by looking at the back - magazine has inspection holes at 5/10 cartridges for M96 and 5/10/15 for M92 (in different places of course).
Except for numbers near holes, there is no marking on the magazine.
Even though capacity is 11 cartridges, due to very stiff spring I only manage to load 8 in mine.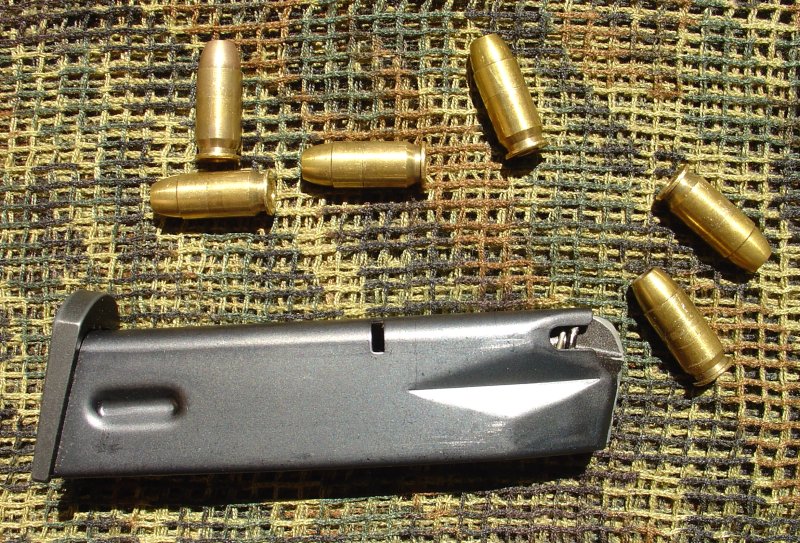 Cartridges
This model uses MGC CP-HW cartridges, with a multi-part design. You can unscrew it into bottom and top part, with an insert going into the bottom, followed by 7mm cap and piston pin with o-ring.
These are .40 caliber cartridges, different from 9mm for M92. Make sure you try to fire correct ones.
<pictures to be taken>
Model features center-fire system, where a firing pin (plastic!) strikes middle of the cartridge.
Firing
MGC design ensures smooth operation and lot of fun from firing it :-)
Load cartridges with caps, put them in magazine, insert magazine to the model.
Beretta can be fired in single or dual action. When hammer is cocked, a smooth trigger pull will make it fall and fire. There is a distintive point just before hammer will fall, but move is very smooth. When uncocked, a much longer, still smooth trigger pull will cock hammer first and then fire (provided that a cartridge is chambered). Hammer stays cocked, so subsequent shots are in single action mode.
Rack the slide to load the first cartridge, then ensure that safety is off and proceed to fire whole magazine. Slide lock lever should block the slide after the last round.
Cartridges are ejected to the right, slightly upwards.
After each firing remember to clean modelgun and cartridges.
Problems
Except for occasional jams when using M92 magazine I did not have problems with this model yet.
The only other thing to keep in mind is that magazine spring could be very stiff and not allow to fully load it with cartridges.
Basic disassembly
Modelgun follows real Beretta disassembly process:
remove magazine, ensure that chamber is empty

on the right side push pin that blocks disassembly lever

on the left side rotate disassembly lever down

slide should now come off the frame towards the front

put away frame

inspect first, then remove return rod and spring from the slide

remove barrel from the slide

unscrew a small hex grub screw that is under barrel to remove detonator pin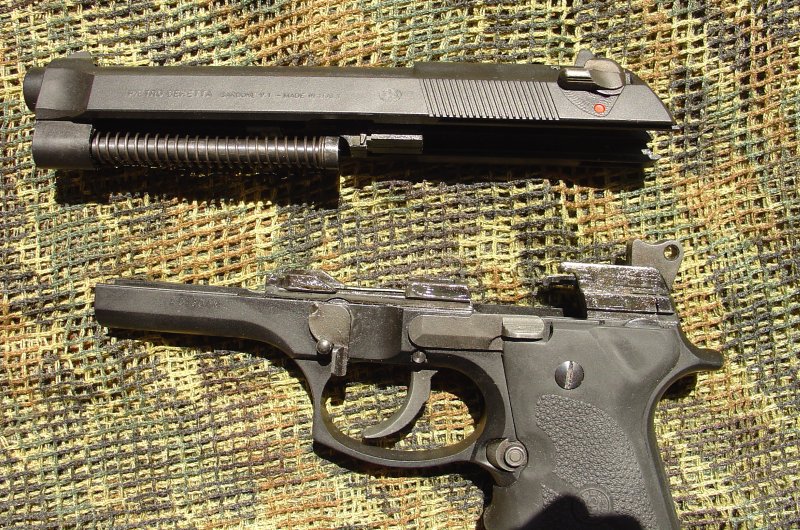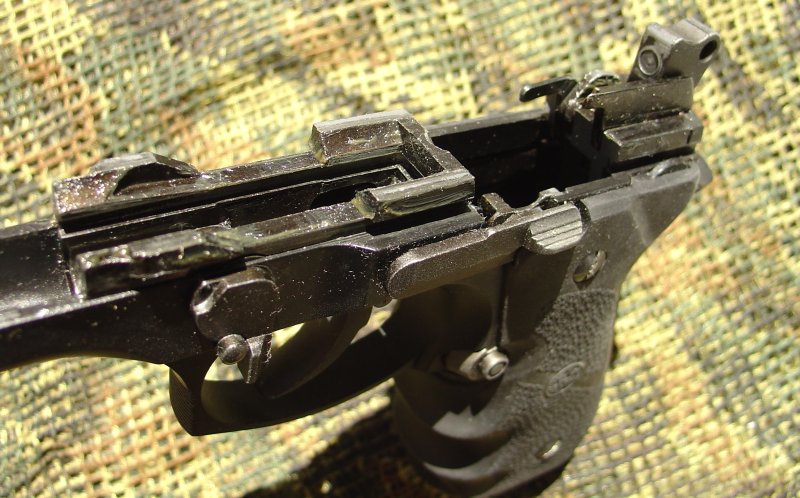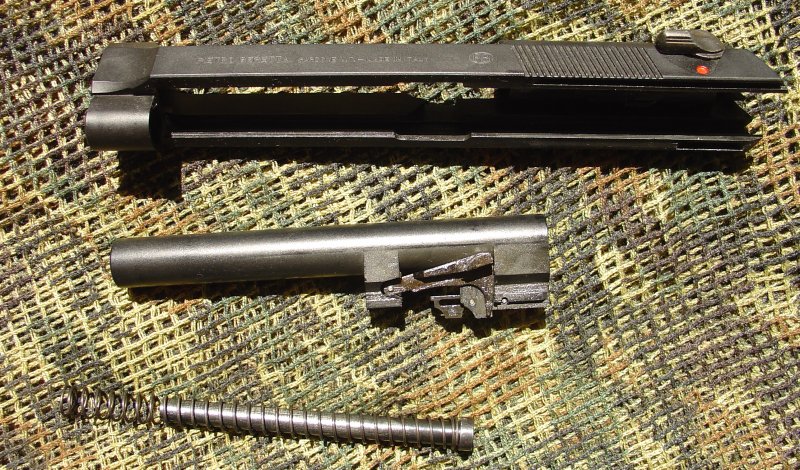 Modelgun is now ready for cleaning - make sure that detonator pin is clean and dry, just as barrel. Also clean chamber area of slide, top of the magazine and other areas where cap residue could be left.
Assembly follows the opposite process:
insert detonator pin into barrel, put back grub screw, ensure pin sits at correct depth and does not wobble.

put barrel into the slide, align it properly.

insert return rod and spring into their place. Note that barrel has a springing part that needs to by pushed towards to back of the model (hidden) in order for return rod to fall into right place.

put slide back on the frame. If return rod blocks, it was not aligned good enough - remove slide and reseat rod on barrel.

move slide backwards as far as necessary to rotate disassembly lever back to original position. Do not force the lever.
Everything should be ready now for storage or further operation.
Overall
How could I have missed so much fun with Beretta 90 series? If I knew before that it is such a satisfying model, I would never pay so much attention to my "liking" of the shape or other features.
I can recommend you MGC Beretta M96 as a fine model that works well and gives a lot of satisfaction. It looks good, fires even better.