I've been merging a KSC PFC m93r and an KSC airsoft Auto 9.
I have the top slide left over from the airsoft auto 9.....HOWEVER, i've had to cut the sight off completely to attach to the PFC.
So, im not sure if this will be any use to anyone, but its free to whoever wants it.
All they have to pay is postage.
Heres some pics showing the damage.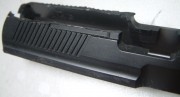 Lewis