This is a small Christmas gift for forum members :-)History
History of Beretta M1934 started when Walther PP became very popular in 1930s and Italian Army became interested in this Walther pistol. Beretta decided not to lose such an important order and designed Model 1934, a small pocket pistolet chambered in Browning 9mmx17 (.380 ACP), NOT more powerful Parabellum 9mmx19 (Luger). There was also a 7.65mm (.32 ACP) variant called M1935, release a year later.
Beretta M1934 was a robust pistol that became a standard Italian Army pistol and has seen extensive use during WWII. Total production is over a million units (including post-war ones). It was produced until 1991, so pistol is still quite available on the market.
Wikipedia information about M1934:
http://en.wikipedia.org/wiki/Beretta_M_1934
More information:
http://world.guns.ru/handguns/hg236-e.htm
http://www.berettaweb.com/armi/Beretta%20mod%201934%20&%201935.htm
Modelgun
Many Beretta M1934 modelguns were produced over the years by manufacturers such as MGC, RMI, Western Arms, CMC, Hudson and WaShan.
Originally the design was created by MGC, who released a metal modelgun in late 1960s or early 1970s. It was available initially as a dummy version, then later released also in blowback versions. Around the same time CMC and Hudson released their M1934s, too. Export version of MGC was sold under RMI mark primarily in England and USA.
MGC and other companies had to stop production of metal pistols in 1977 after the second law change in Japan. At that moment Western Arms entered picture. They cooperated with MGC and released M1934 that was based on MGC blowback mechanism, MGC parts and original molds modified for plastic (ABS) production process. Western Arms sold several versions, including deluxe model with satin painted metallic gray finish (instead of shining plastic) and grip panels made of wood on brass plate. As far as I know there was no HW version, as this material was not developed at the time. WA also sold an airsoft version, shooting 6mm plastic balls using compressed gas. Tanaka had an airsoft version of M1934, too, not sure if they did a cap-firer (probably not).
Much later WaShan started to produce modelguns. Being a Taiwanese company they did not need to comply with Japanese law and could produce an all-metal modelgun of Beretta M1934. I think it is at least partially based on MGC/WA model.
As for accessories I only know of an MGC silencer. It was simply pushed into the barrel (not screed), and it had a cutout to accomodate metal bar blocking barrel.
More information about MGC, CMC and Hudson versions:
http://www7a.biglobe.ne.jp/~yon-yon/cgi/test3.cgi?Input2=beretta
A bit of history and Western Arms version:
http://homepage3.nifty.com/nkoinuma/Beretta2.htm
Beretta M1934 is a lovely little gun with interesting look and design features, I was interested in it for a long time. A long time ago I planned to get Western Arms airsoft version, only to find that it is pretty much sold out already. A few years later a metal modelgun version was offered on sale here on forum, and temptation was just too big to let it go :-)
Box
Model that I got was without its original box, so I can't say what it should look like ;-) In fact I have not seen RMI box yet even on photos. You can easily find pictures of Western Arms box though. I also found a picture of MGC box, with model and silencer.
Modelgun
While I am not a big fan of larger Berettas, this little one is very attractive to me!
Somehow M1934 has just the right proportions to my eye and to my hand. Being made of metal it is nicely heavy and cold to the touch. As usual with Berettas, shapes are not straight and it's not that easy to describe them using just words.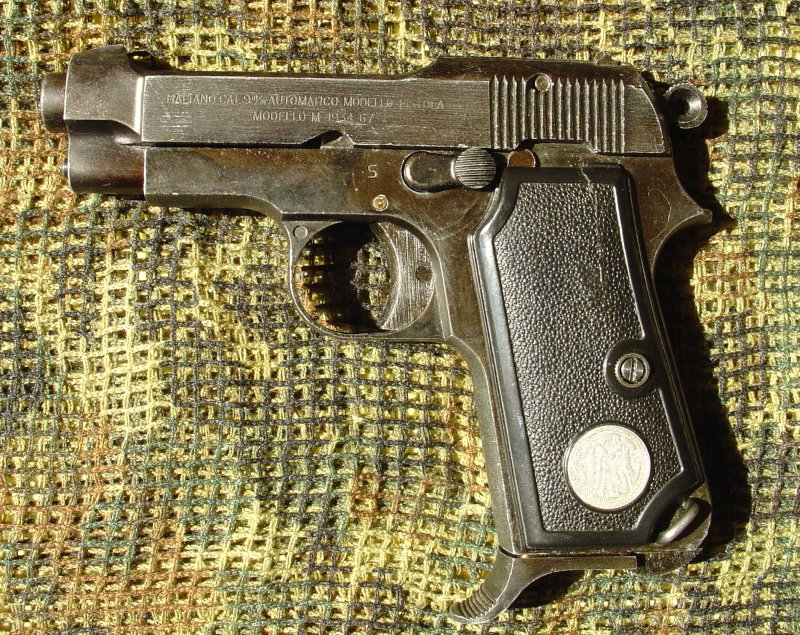 Slide is open at the top, just like in its larger brothers. Due to this hole, sides had to be made much thicker to preserve slide's strength. Front is slightly curved towards the end of barrel sticking out of slide. Left side of the slide features the following text: "ITALIANO CAL. 9m/m AUTOMATICO MODELLO PISTOLA" and "MODELLO M 1934 67". Just under the text there is a notch for a slide catch. Slide is serrated behind the text. Right side of this RMI model is marked simply "JAPAN". MGC version had a slightly different markings here: "MADE IN JAPAN" and a 4-digit serial number.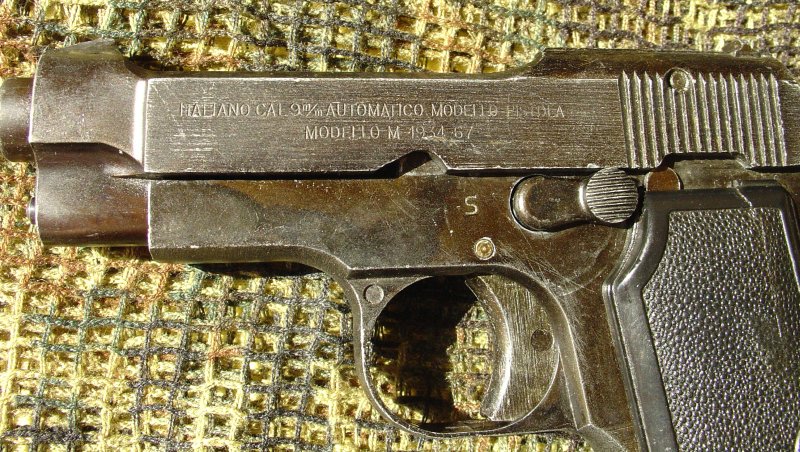 Sights are very simple, fixed, moulded with the slide, like in the real pistol..
Frame has a classic shape. Left side of the grip features a metal loop for attaching a leash. Upper part features a safety lever (also on the left side), just under the slide. Back position is safe (and disassembly), front position is fire.
Trigger sits in its guard in the usual place :-)
Hammer is round, with a hole through the middle and serrations on the outside.
Grips are black, plastic, with inlaid metal RMI logo. MGC version had "PB" logo, unfortunately removed for this export version. They are each held by a screw. This is a bit different from original ones, where grip panels had additional metal sheet underneath.
Magazine release catch is located under the grip, at the back. You need to pull it backwards to release the magazine. This is "older" design, modern pistols have mag catch button near trigger guard.
Overall it is a very simple, yet elegant model.
Magazine
Magazine is probably the best looking part of the model, showing its full beauty after you take it out of the model.
It is metal, with a metal follower and spring that you can see through large cuts in the walls of the magazine (problem in real pistol, dirt easily got inside). Bottom of the magazine has a curved spur (or a shoe, depending how you look at it) that extends grip and makes your fingers hold it more comfortably. Side is stamped with "JAPAN". As you can see from pictures metal has a beauful colour, either from original processing, or maybe an oxidation layer that it got over more than 30 years of existence.
Capacity is 7 cartridges.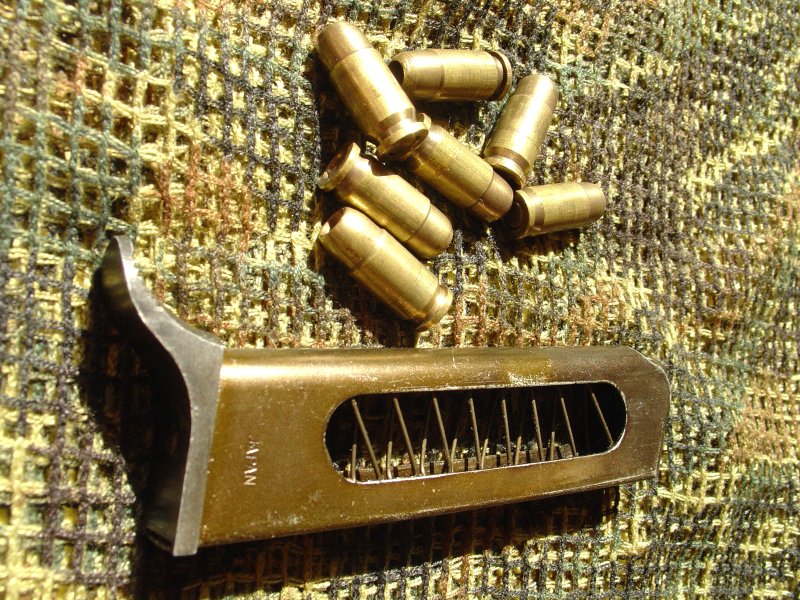 Cartridges
This model has been converted to fire PFC cartridges, more precisely - Marushin Beretta M84 cartridges that have been slightly modified to fit. In real pistol both M1934 and M84 use Browning 9x17(.380 ACP) cartridge, while modelguns from different manufacturers have some differences. The tip of the cartridge has been reshaped making it about 0.2mm shorter and thinner. Weight, other dimensions and internal construction are left the same.
Cartridge is made of two parts screwed together. Bottom part features a removeable insert with detonator pin and an o-ring. Small piston goes into the top part, followed by a bottom-facing 7mm cap.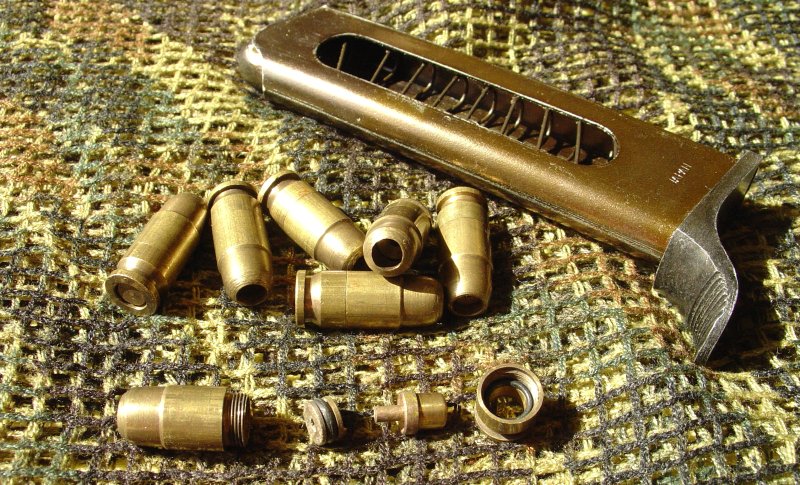 Firing
Load cartridges with caps facing downward, typical for Marushin PFC(artridges) that I use here.
Insert up to 7 cartridges into the magazine and load magazine in the model.
Rack the slide to introduce the first cartridge into the chamber. Beretta M1934 is a single-action only pistol, it will not fire unless hammer is cocked (and cartridge in chamber). Make sure safety is set to "fire" (forward position) and... pull the trigger when you're ready :-)
Model makes a very nice metalic "clang!" type of sound when fired, highly satisfying

Note: cartridges are ejected upwards!
After shooting remember to clean cartridges and model! This model does not have open barrel, and all bad things are routed backwards onto the frame, slide, magazine and other parts of the mechanism. Detailed cleaning is a must to avoid problems with this great metal model.
As I only fired 7 cartridges, it is hard to talk about performance of the mechanism. The first and fourth cartridge fired automatically after racking the slide, these were the only that ejected cleanly and far away. One jammed during ejection, the other four barely ejected out of the slide, falling either back on the model or by its side.
I would say these problems are typical for Marushin PFC. I have similar experience with their P38 nad M712, where cartridges easily get set off, and where performance is quite uneven. It seems to me that PFC design is much more sensitive than others.
When cleaning I discovered that detonator pin is moving slightly. Until I find a way to remove it (there's no visible grub screw) I do not plan to fire this model to avoid problems to accumulate.
Problems
I found no major problems with this model. As you may know, in the beginning of modelgun history CMC was the company known for making the most realistic replicas, while MGC focused on making action work good. This metal M1934 is no exception, mechanism functions very well, while keeping looks very good.
One weak point is grips - mines have already started cracking due to age and use. I got original M1934 wooden grips planning to replace original ones, but they do not quite fit due to size and mechanism differences.
A model I've seen on an auction had a broken plate that links trigger with rest of the mechanism. It did not survive stress of multiple trigger pulls, according to original owner. As a precaution I got a spare one.
Basic disassembly
Beretta M1934 (and MGC modelgun) has an unusual disassembly procedure.
First remove magazine and make sure that chamber is empty. Pull slide back and flip the safety lever slightly up so it holds slide in position. Now the fun part - remove barrel by lifting its back part upwards (yes, through the opening in the slide). After barrel is out of the model, move safety lever to "safe" position, this will allow slide to move forward and be taken off the frame. Return spring and rod will go off as well.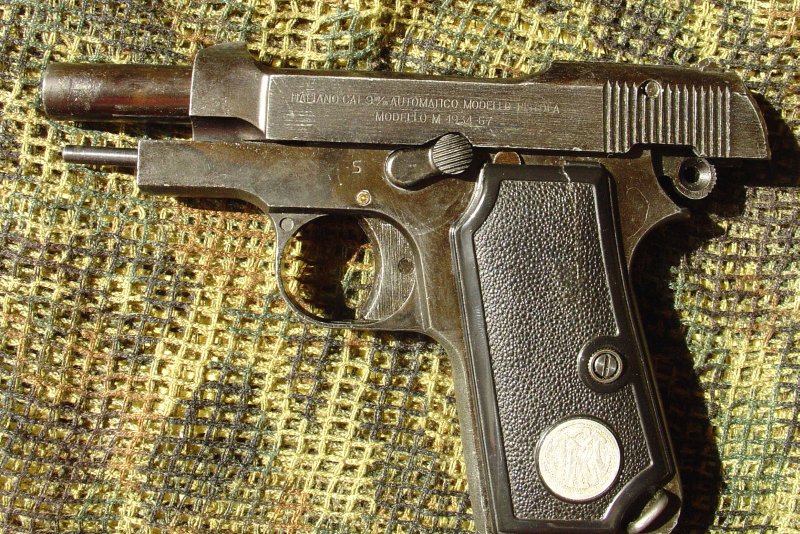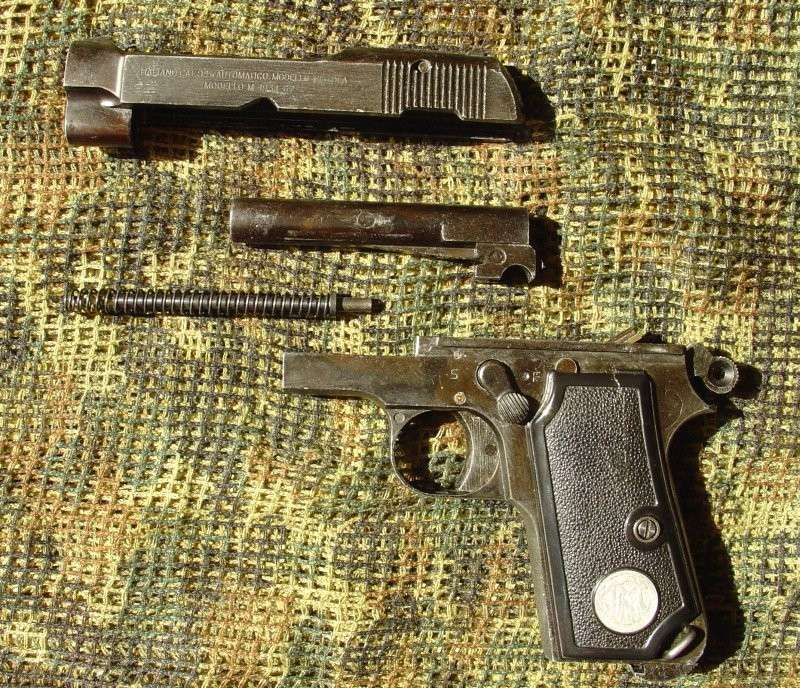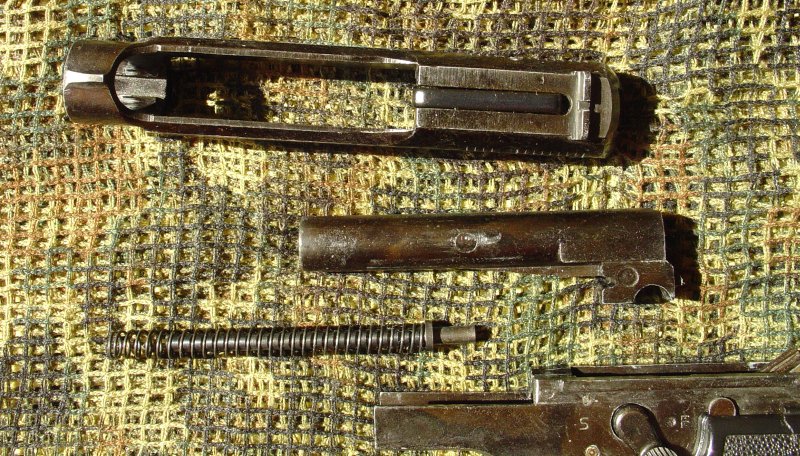 A few details, including pivoting part (ejector)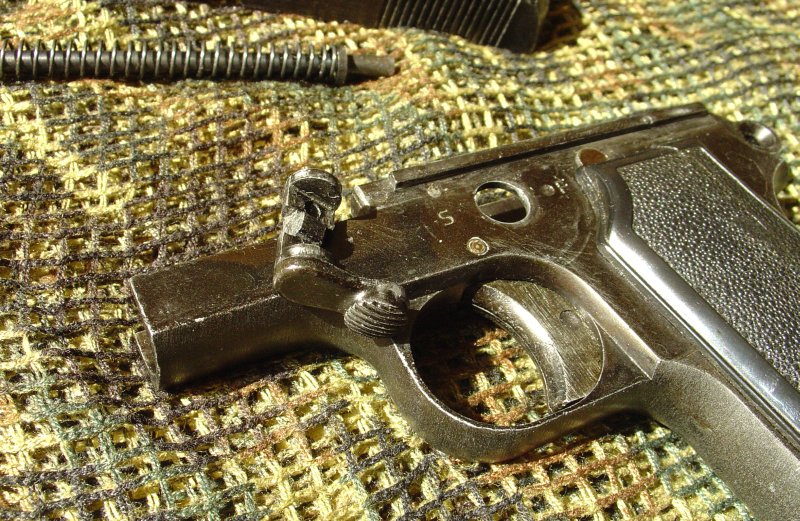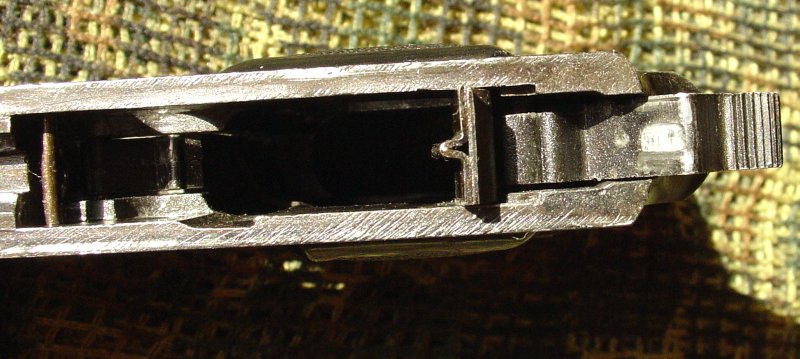 Barrel is partially blocked, there is a metal bar from the front, and detonator pin in the chamber.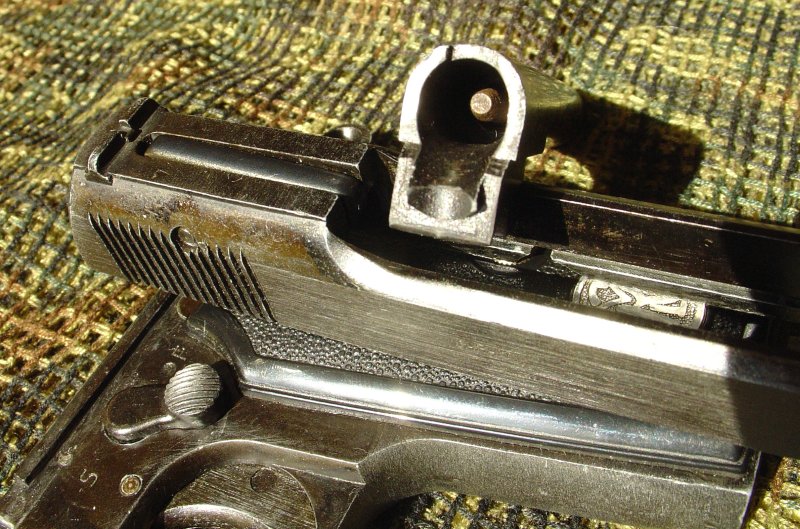 Overall
I am very happy about this model. It is full metal, black, solid, well made, with lot of details, pretty, hopefully works without problems and on top of that it is quite rare and unusual, especially in this cap-firing version. I liked looks of M1934 and I am not disappointed by this model :-)
The only thing I regret is not buying a second one (dummy this time) at an auction I've seen a year ago.