Hi All

Looking through an old post:
http://mp40modelguns.forumotion.net/t370-modifying-old-marushin-mp40-to-fire-cp-cartridges
I found the following section posted by Doc
"does the rear of your receiver say Marushin MP40 ??? if not yours may the be the sort of MP40 I have been trying to identify for a long time.
I have some plans for the Metal Marushin MP40 and MP41, you can see there is not a removable trunnion.
I have seen a lot of these and everyone has always been marked Marushin at the back of the receiver.
Also I have plans from your type of MP40, you can just see that there is a Zinc removable trunnion and you can see this is not Nakata as the barrel does not extend backwards.
I have never been able to identify this make of MP40 Neither the gun or instruction has a makers name or logo.
I think this type of MP40 is superior to Marushin "
It refers to this: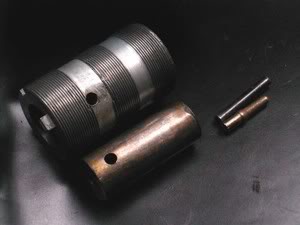 Since then has anyone been able to identify or explain this one????