History
Nambu Type 14 entered service in 1925, but it was produced in low numbers and seemed too large a pistol for practical use. Work on a smaller service pistol resulted in Type 94 (= model 1934). It used 8mm Nambu cartridges, just like Type 14. Small size made it popular for tank crews and pilots who wanted a small backup firearm.
Over 70000 of these pistols were manufactured, with quality slowly deteriorating towards the end of WWII. Design changed slowly, too, with variations in grip types and shape details.
Type 94 is considered by many to be the ugliest pistol ever made, especially so the late variants.
It wasn't also as useful as expected, with weak ammo, poor firepower, and a very bad design feature - external trigger bar that can be easily accidentally pressed with finger (or holster) resulting in a random discharge.
Regardless of the problems, it is a unique looking pistol, today more interesting than yet another Beretta 92 or Colt 1911.
Wikipedia information about Type 93:
http://en.wikipedia.org/wiki/Nambu_Type_94_pistol
More information:
http://world.guns.ru/handguns/hg/jap/nambu-type-94-e.html
http://members.shaw.ca/tju/t94gallery.htm
Modelgun
As you already know from my earlier reviews of Japanese modelguns of Japanese pistols, Type 14 and Baby Nambu, I am partial not just to modelguns, but also to firearms coming from that country. They followed different design methodology, showing different thinking. Often the results are far from perfect on the performance side, yet there is something attracting people to them.
Marushin manufactured a metal version of Baby Nambu in dummy and cap-firing version, Hudson did Nambu Type 14 also in metal, in late/early variants. Type 94 remained with very little representation for a long time, until the recent release of HW dummy version by Hartford (HWS).
Earlier attempts were manufactured as solid dummies (probably rubber or plastic), as well as a highly sought after limited edition by Rocken made of ABS. Even if available, they fetched high prices.
Hartford production run was fairly short, and relatively expensive, but today it is the most obtainable Type 94 model. Of course I wish it was made of metal, and fired caps, but I'm happy with what I have :-) Thanks go out to Katsuro for helping me to get this model.
More information about Type 94 modelguns (Rocken):
http://homepage3.nifty.com/nkoinuma2/J-Handguns.htm
Box
Modern modelguns are no longer mass-produced, and it shows in choice of packaging. HWS Type 94 comes in a yellowish cardboard box - simple, and ecologic too I guess ;-)
Top of the box features Type 94 cut-through drawing and various information in Japanese. There is also a price sticker. Sides also have text.
Inside you would find instructions right on top. Underneath there is a model itself, wrapped in foil, and a separate division for cartridges and a disassembly tool. My box had additionally a spare magazine and a second box of cartridges that I ordered together with the model.
Instructions are quite complete, with a yellow booklet which is a copy of Type 94 service manual and a detailed 8-page long, picture-rich modelgun manual with disassembly instructions.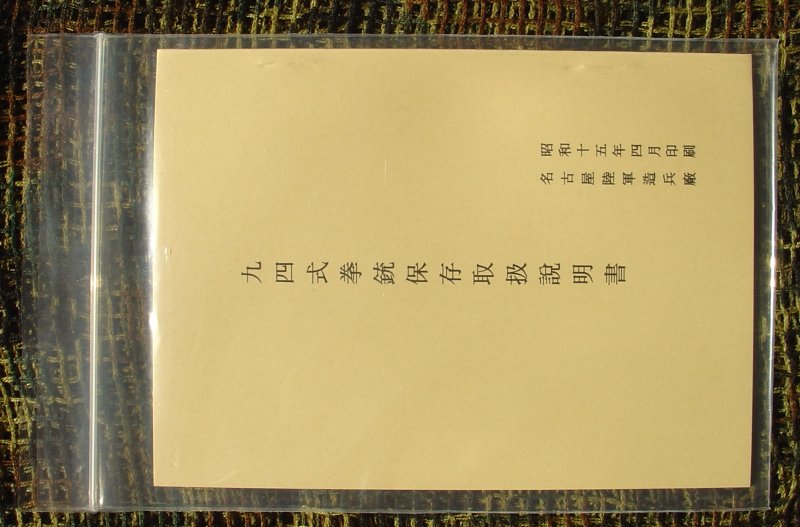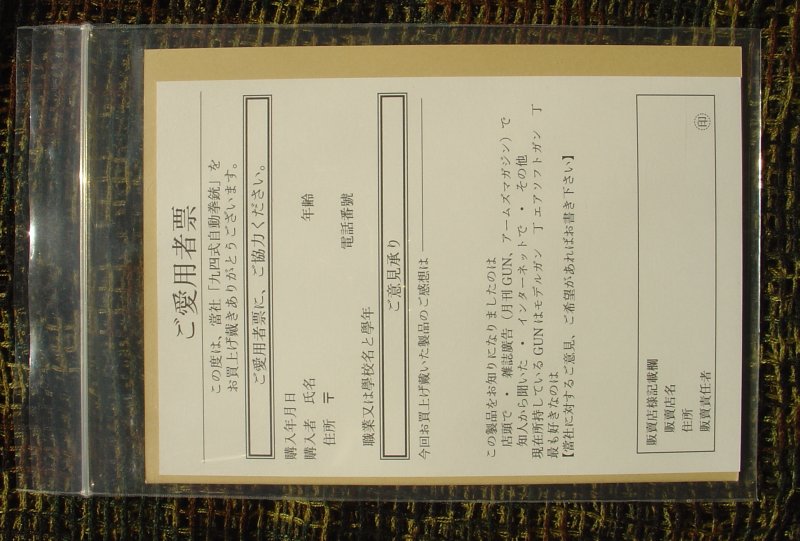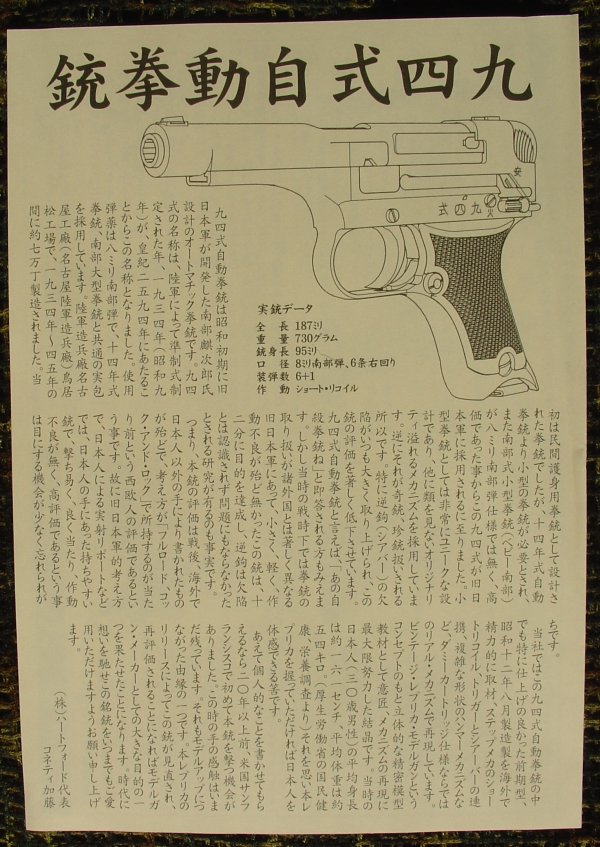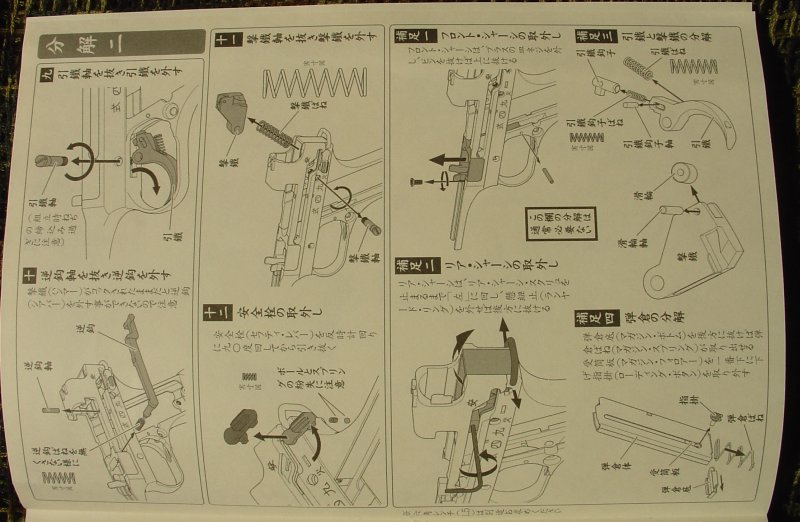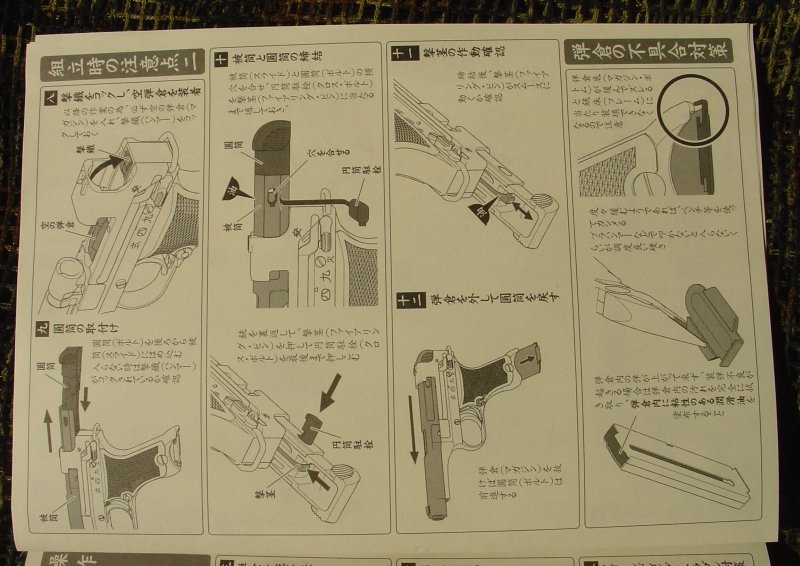 Modelgun
This modelgun is as surprising as the photos. It has a strange shape, with a tiny grip and a tiny barrel sticking out of a large main block.
Taken into hand this pistol surprises again. It is very light and small, almost disappears in hand. It is fairly comfortable at the same time.
Model is made mainly of black HW or ABS material that seems greyish on the photos. Metal details are black, just like grip panels, and they seem more black, especially at the photos here. Slide and frame have moulding lines, though they are not too bad.
Left side of the model features heads of several screws holding model together, as well as exposed external trigger bar, mag release button and a safety switch. You can also see two black metal parts, one in front of trigger bar, one on the slide. There are also markings: the first three characters are probably "Type 94" designation, followed by "Fire" character under the screw just in front of the safety switch, and "Safe" kanji above the safety switch.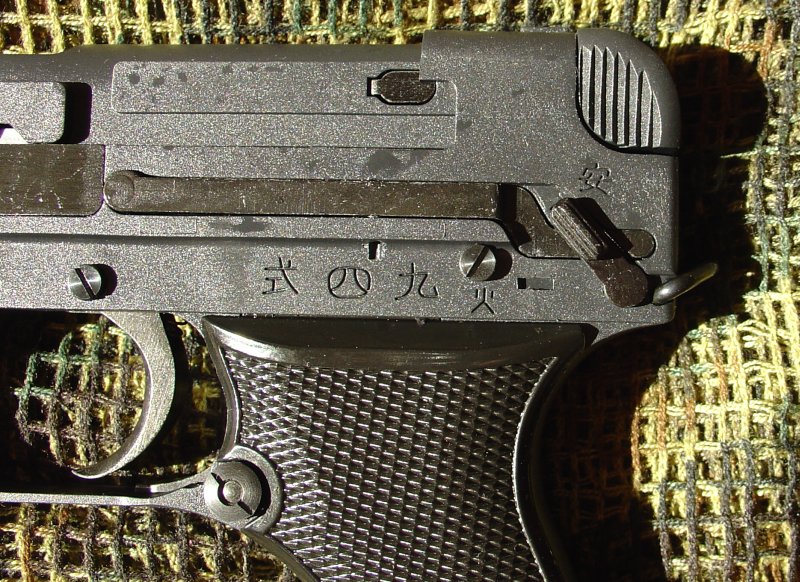 Safety switch will block trigger bar. This prevents hammer from falling either after trigger pull, or direct pressure to the external trigger bar. Note that if you forcefully pull the trigger, the bar will bend against the safety.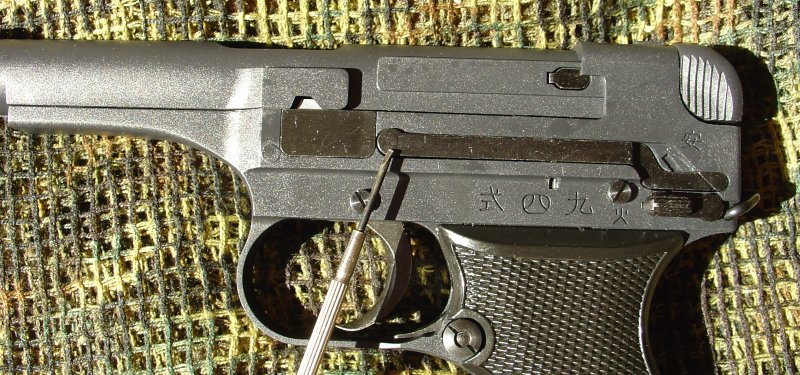 Trigger bar is completely external. When hammer is cocked, it will stick outwards. Pulling the trigger moves bar inwards and releases the hammer. As bar is completely exposed, you can also push it with your finger! This is the most strange feature of this pistol. Normally you would have safety switch on, preventing firing in holster. Safety would go off before firing, when pistol is more under control.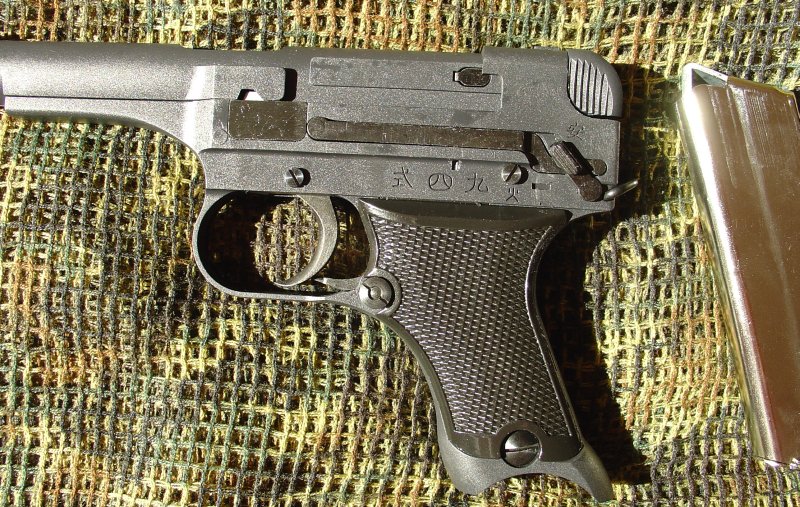 Secondary safety feature is magazine safety. When magazine is removed, a lever moves out from behind the trigger, blocking it physically.
Right side is simpler, without trigger bar or safety, but it has markings: Nagoya Arsenal mark, date of production (12.8 = August 1937) and Nambu logo followed by a serial number (2673).
Back of the frame has a bracket for a leash.
Grip panels are black, simple. The left one has place for mag release button.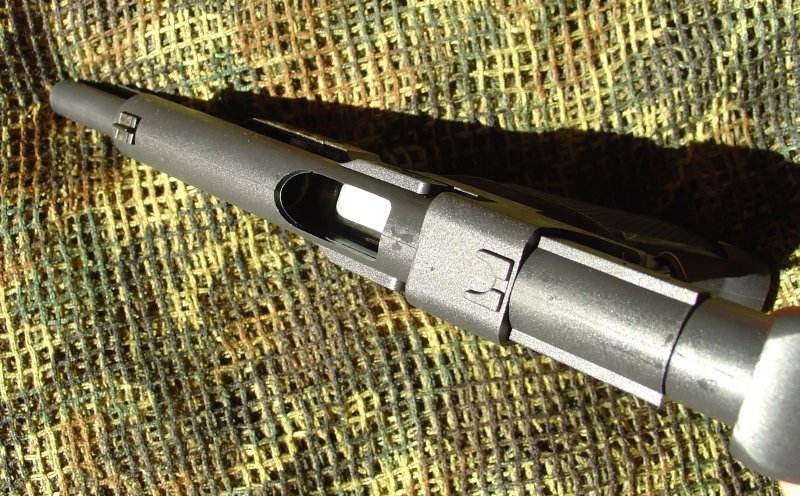 Slide has ejection window on top, near the front of the pistol. Through it you can see back end of the barrel (lighter colour) and metal ring (black) against which the return spring works. Sights are more than simple, rear one is fixed (moulded with slide), front sight is adjustable left/right thanks to dovetail. Be careful - front sight is tiny and flimsy, it's not really held in place firmly. Back of the slide has a rounded part with serrations for easier cocking.
Slide will lock in the back position when magazine is empty. It is held by the magazine though, so when you remove mag it drops forward again.
Barrel is blocked with a metal insert about 1cm from the end, full diameter, not just tab.
Magazine
Made of metal, capacity is 6 cartridges.
It serves as a slide stop when empty, and also as a secondary safety switch - removing magazine blocks trigger and prevents it from firing.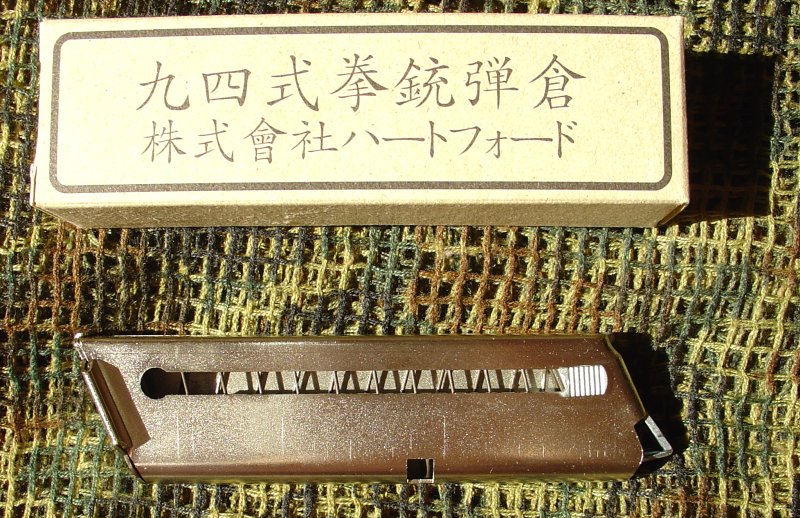 Cartridges
This model uses dummy cartridges that can be cycled by hand. They are 8mm Nambu caliber, with yellow case and silver bullet.
Box contains 6 cartridges.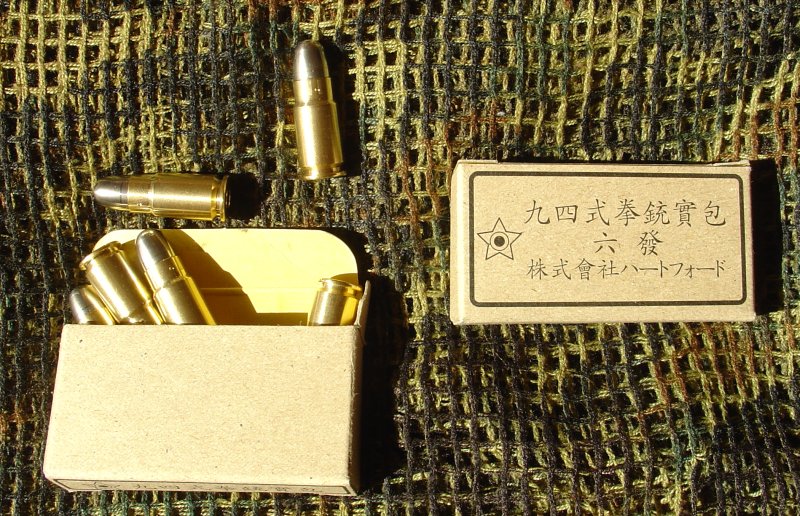 Firing
Dummy model, manual cycling only.
Cartridges are ejected upwards.
Problems
It's not a firing model, so there is no firing problems :-)
Model replicates features of the real pistol quite accurately, so things like exposed trigger bar are not a problem!
Basic disassembly
You don't quite need to clean this model :-)
Curiosity is a good reason to take it apart anyway :-)
remove magazine and remove cartridges from it.

make sure the chamber is empty.

insert magazine and lock the slide back.

you will need to push out the black metal part out, pushing it from the right side using supplied tool or other soft item. First you need to reach under slide and push a spring-loaded part to the front, otherwise the black metal part will be locked in place. Do not push anything by force!

back end of the slide (breech block) should now come off to the back.

front end of the slide should also slide off to the front, together with its spring and metal ring.

barrel will come out upwards.

Mounted in the frame you will find ejector (right behind magazine well) as well as trigger mechanism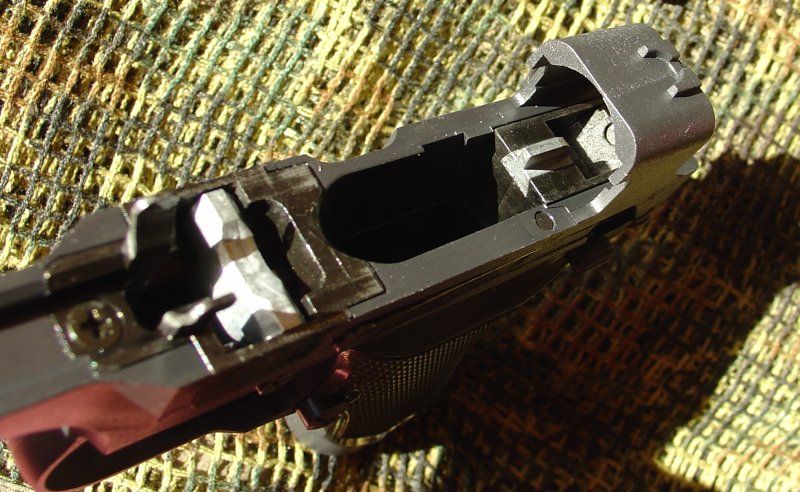 Overall
I recommend this model for all Japanese pistol fans, as well as people looking for something unusual. It is dummy only, and made of plastic though, that might deter those looking for more solid models, or only cap-firing ones.