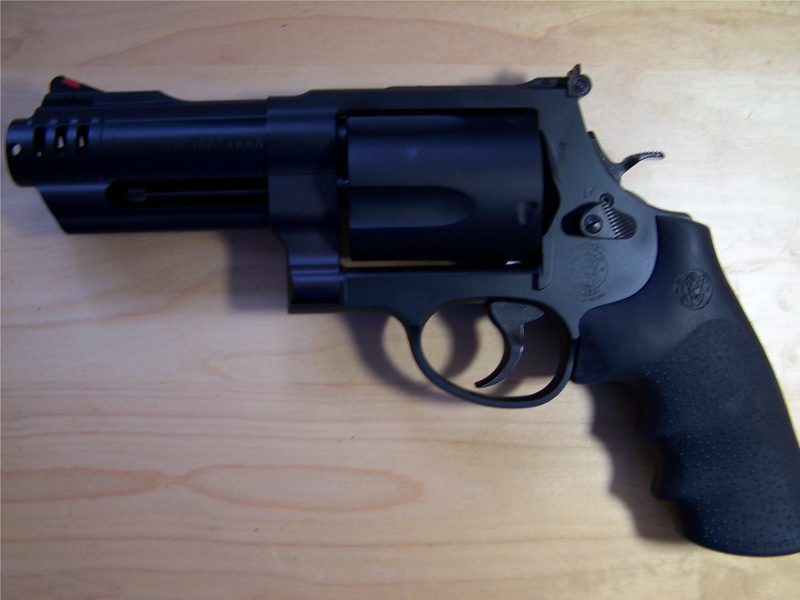 Tanaka Smith & Wesson m500, well this is a model i have thought about getting for some time but never really seen anything about and the only vids i have seen it seemed a very quiet model considering it take 2 5mm caps. I still felt that it was a model that should be in my collection so when John at PFCGUK got one in i had to go and have a look.
Well as expected the model is huge, the 44 mag is one big gun when compared against other guns but the 500 makes the 44 look small, its not just the frame size its the cylinder which is  seriously big but then to take the 500 round it has to be. It only takes 5 rounds had they made this take six then i think the gun would of looked ridiculous in size and probably ungainly  and when you look at the size of the round you see why the cylinder is this size. Its good to see they kept the rounds a realistic size too often in the past the rounds have been much smaller that the real thing and detracted from otherwise excellent models.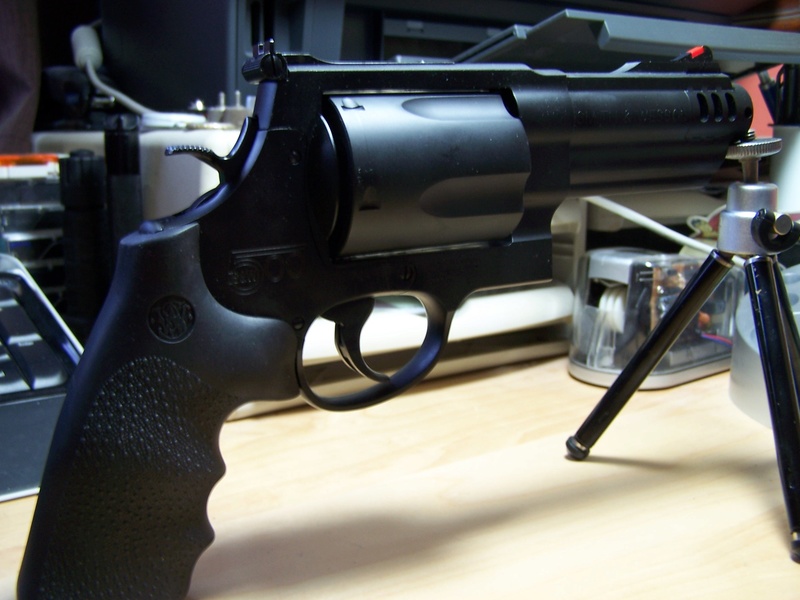 This is a double or single action revolver and the action (for a model) is pretty smooth and it has a nice click click sound when you cock the hammer, always nice to hear on a revolver. The grips are rubber and are very comfy and surprisingly for such a big gun the grips make it feel smaller than it actually is (if that makes sense). This is not a particularly heavy model and i was expecting a bit more weight due to its size but the whole fel of the gun is not bad and you cannot expect to much from plastic, however once you put the 5 big brass rounds in the weight increases significantly. Its hard to say (obviously)  how shootable the 500 would be due to the difference in weight between this model and the real thing, this model feels fine in the hand but if it was a metal model  maybe the weight would feel ungainly or front heavy, anyway not a problem with this.
Unusually this model has a safety catch just above the cylinder release catch there is a small hole in which you put (a supplied) key and turn, this then locks the hammer, probably not a bad idea when storing the gun but not i think practical if out in bear country and you need to take the safety off real quick!
The finish on the gun is as all black HW models a very dull black which never does any model any favours, although autos seem to pull it off better than revolvers. With this gun being so big that dullness is enhanced though and it would be good if Tanaka had made this model in the Jupiter or midnight (i think its called) blue they do on some of the airsoft models. The chrome version may look a bit better but most of these seem to come with orange grips, orange!! Really yuck!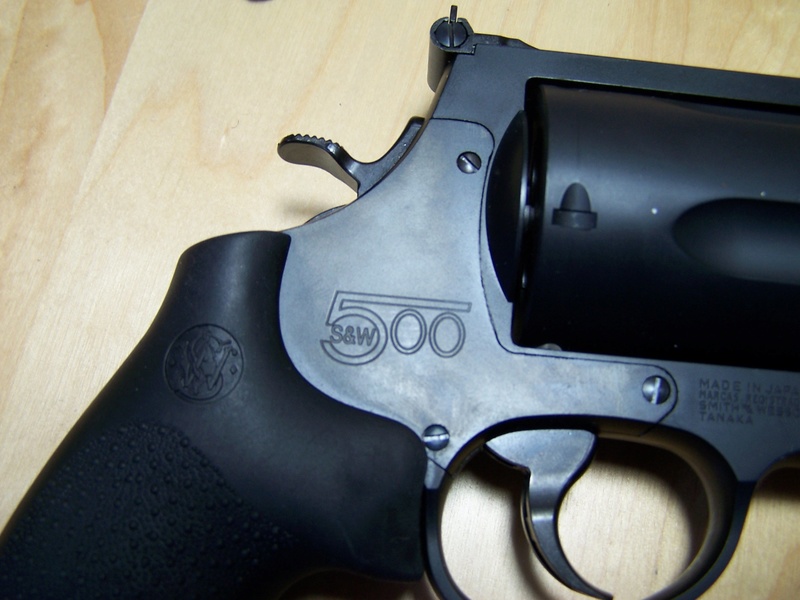 The barrel is the 3 + 1inch version (3 inch barrel 1 inch compensator), bit of a toss up really on 3 or 6 inch barrel as such a large revolver looks great with bigger barrel but then the 3 inch will always allow more flash and in modelgun revolvers i think the flash makes a big difference as the noise level is not always that good, not compared to the crack you get with most autos (marushin m39 apart). Well this model take 2 5mm caps so you would expect the sound to increase because the marushin M16 with a 7 and 5mm cap does sound better however no so on this model. Now its not that bad on par with most modelgun revolvers but i expected a bit more with 2, if you were firing a small S&W 36 or something similar then they dont sound too bad, but with a gun this huge you really do need just a bit more bang, if you could get 22 short blank level then that would not be bad but you dont so the noise is a little disappointing but not unexpected. John did show me how to fit 3 5mm caps into the round and it does work fine with this solution, noise level does go up a bit and you get more flash out of the barrel, not a huge flame obviously but not bad for just cap flash, also considering the barrel has a compensator on the end the flash looks good. That said not exactly cheap to fire using 3 caps at a time as thats  15 caps every time and caps are not cheap anymore, but what the hell every spark is worth it.
The area where i hope this gun may be better than most is with flash powder i think it shouts out USE SOME! With the rounds big this big and 3 caps being used and the shorter barrel i hope that a really good flash can be produced, this is something i will get round to when i have more time (loading flash powder is time consuming and a proverbial pain).
So overall impressions, well tanaka always make great looking models even if some are a bit prone to break but with a revolver its hard to go wrong,. As far as i can see its an accurate copy of the real thing, looks and feels huge (which is the whole point of having it). Fires well though noise level could be better (difficult to achieve that with a revolver round), dull black is bit disappointing chrome may be better but all in all as a lover of very big guns i like this model, its unusual and different enough to make it interesting, the only thing i would say in the negative is that it is so large that when you hold it, it can feel more like a made up sci fi gun (hell boy type) rather than a realistic replica, which may seem strange but if you hold one i think you would understand.
Some pics not the best I just could not get the light right to get the model to stand out, I have put the 500 round next to a 9mm blank to give an idea of size.
The vid, the first shots are a double cap then a treble then a double. The 2nd firing is all with double cap and the third firing is all treble cap, you can make out a little difference in the noise and the flash but not sure if it comes across on the vid. Turn the sound up on your speakers for this also the caps ore mgc 5mm not sure if you would get more noise but you would get more flash from the marushin 5mm.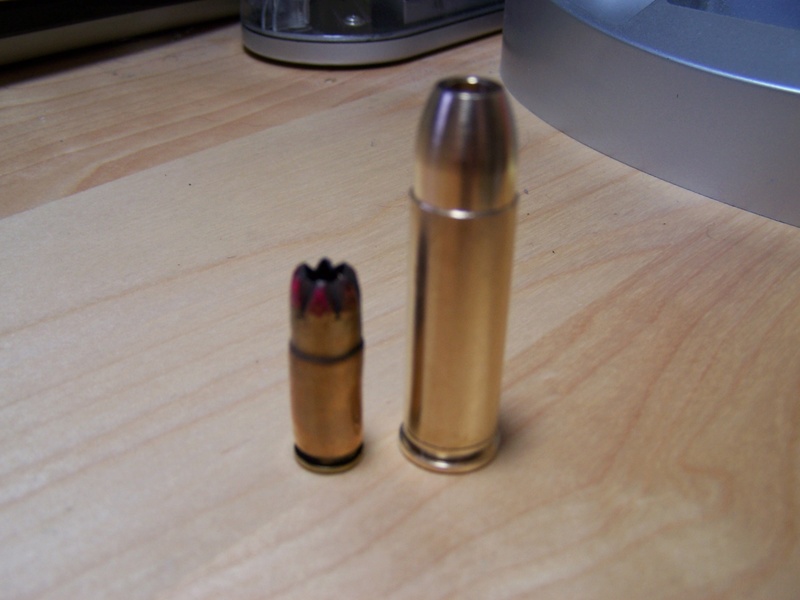 Pics added of dismantled round and also the gun in comparison to a mini mag lite, dont know if that helps but i dont have any other models to compare it against at the moment.