Not sure what model p38 this is. Left side of the slide says p38 nmg 42 1974. The right side is filed down. It is all metal. The end of the barrel has a pin in it. The chamber is open and has a detonator. I think it is a Marushin.
Compared the grips to a post war p38. The plastic that fits inside the cutouts in the frame are different shapes. The bolt hole and lanyard loop hole are in a slightly different spot. Was hoping to fit some repo bakelight grips. The original grips are brown but someone painted them black. Some goof off took the paint off but the grips are still scratched up. The lanyard loop is broke off. Might be able to replace it with a real one.
The safety is missing. Looked at a real safety but the internal part is different and smaller diameter.
The action and trigger and hammer work. The trigger will move the hammer when it is not cocked. When it is cocked the trigger won't move the hammer unless the trigger bar is pushed up. Looks like a spring is missing. Tried a real trigger bar spring but it wants to slide under the trigger bar. The real trigger bar has a slot in the middle to hold the spring. That will be easy to fix.
The magazine is in pretty bad shape. It is dented in several spots. The feed lips are deformed. Might be able to reshape it. Looks like someone tried making a spring for it. It is real thin and way too short. The magazine is smaller than a real one so can't use a real spring.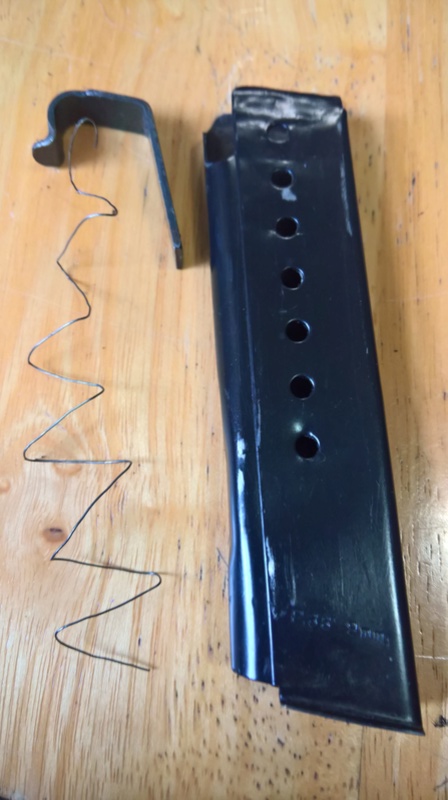 One of the pins that goes inside the springs for the slide is missing. Will have to make a new one. The magazine release was too low. Just needed to be pushed back into the hole cutouts.