History
Once upon a time a man called John Browning laid down designs for most of the iconic pistols, including Colt 1911, Colt .25, Colt.32, Colt Woodsman, FN/Browning M1910, Winchester rifles, M1919 and M2 machine guns and BAR (Browning Automatic Rifle). Not just pistols, but ammo as well: .25 ACP, .32 ACP, .380ACP, .45ACP and .50 BMG are still widely used.
After selling his patents for pistol Model 1911 to Colt, Browning was asked by Belgian FN (Fabrique Nationale) company to design an automatic pistol. By 1923 he started design of a new pistol, his last work. Death in 1926 did not stop development - Dieudonne Saive continued his work and created FN Grand Puissance in 1935. The same pistol is called FN P35, Browning High Power (translation of French "Grand Puissance") or Hi-Power (American spelling I guess).
It is worth noting that Colt 1911 patents expired in 1928, and FN was able to use several of them in their designs. Just compare patents duration (20 years in USA) with copyrights (life+70 years).
Browning HP entered service in many, many countries. Already during WWII it was used by both sides (after Germans captured FN) and manufactured in Canada (by John Inglis) based on original designs. After the war it was produced (with or without license) in numerous countries, and used as late as in 1990s.
Wikipedia information about this pistol:
http://en.wikipedia.org/wiki/Browning_Hi-Power
More information from various sources:
http://www.browning.com/products/catalog/family.asp?webflag_=007B
http://world.guns.ru/handguns/hg17-e.htm
Modelgun
Browning designs are widely reproduced by modelgun makers. Hi-Power model was however manufactured by just two makers. Nakata created a metal model, reproduced later by Marushin. Marushin also released a whole series of Browning HP modelguns with various markings: Military, Commercial, Target, Canadian, Chinese, Indonesian... Initially they were made of ABS and featured side-firing system (bar pushes whole cartridge onto detonator pin), later from HW and converted to center-fire (firing pin pushes just center plug onto detonator). These modelguns were also released as kits. I think there was also dummy-cartridge version later on.
Modelgun information (mainly in Japanese):
http://homepage3.nifty.com/nkoinuma/Browning.htm
http://web3.incl.ne.jp/shiraaya/marusin-browning-hp.htm
Browning HP was never my favourite pistol and I did not really look to get one. However, out of interest in modelguns when an occasion came up, I got a second-hand one. It is a Marushin-made model of HP Indonesian version (Pindad), made of ABS.
Box
There were many types of boxes, depending on actual model. My Browning did not come in original box, but you should be able to find pictures on websites I mentioned. Box probably included modelgun with a magazine, set of cartridges (13), instructions and a box of caps.
I got a copy of Marushin instructions for Browning HP Military kit version from a friend. They are very good and, surprisingly, written in English!
Eight pages total, they show exploded diagram plus detailed assembly instruction (these are for a kit). There is also section on handling, loading cartridges, maintenance and disassembly, all with pictures. I have to say that this probably is the best modelgun instruction I've ever seen. Marushin mentions three kits versions: Canadian No2 MK1, Commercial Vigilante and M1935 Military. I suppose the same instruction was included in all of them, as the only differences are external, in slide design. Military model has tangent sights, the other two - open sights of two different designs.
Modelgun
It is the lightest modelgun I've ever had. Made of light, shiny, black ABS, it's unbelievably light. A friend who bought HP as his first modelgun was very disappointed... Only after you insert magazine (metal) full of cartridges (metal) Browning HP becomes nicer to hold. It is grip-heavy due to weight distribution.
Browning HP looks somehow similar to Colt 1911, another John Browning design. Controls and other features are placed in the same way, with (in my opinion) cosmetic differences.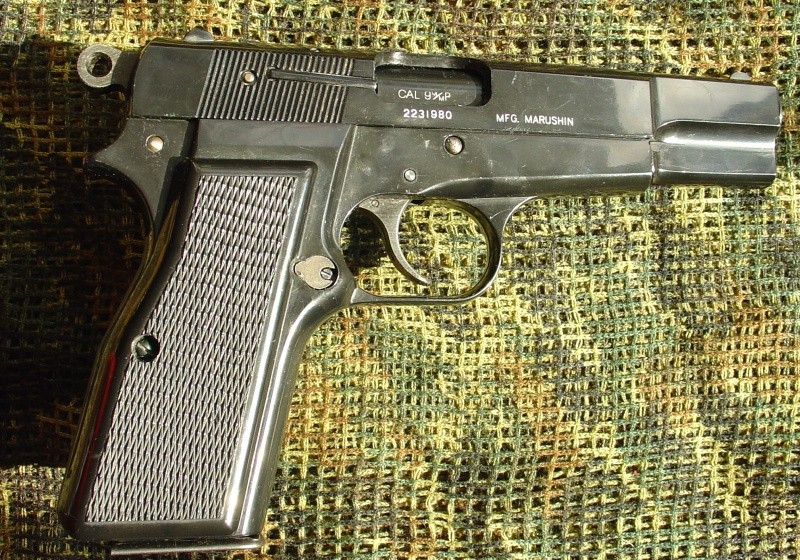 Left side features all controls: mag release button, slide stop and safety. Slide is marked "PABRIK SENDJATA RINGAN" with factory name: "PINDAD" underneath. There is also factory logo (a 5-armed star within a gear) and caliber marking "Pi.A 9mm". Slide is serrated near the back, to make cocking easier.
Slide stop locks on empty magazine. It is a bit similar to 1911 version, but shaped differently.
Safety lever is very small, on left side only in my version. I am not quite sure how it is supposed to work.
In model I have it physically locks the slide, but it does not prevent hammer from falling when trigger is pulled.
Not sure if this is by design, or something wore out :-?
Mag release button is behind trigger guard on the left side - standard for modern pistols.
Model grips are black and plastic, with knurling for a better hold. Each grip is held by a screw. Bottom left side has a ring for attaching a lanyard.
Right side has an ejection port, with chamber marked "Cal 9m/mP". Slide itself is marked "2231980" (probably a fake serial number) and "MFG.MARUSHIN". There is also a fake ejector claw molded into the slide.
Hammer is ring-type. There is a hammer spur, but a small one - your palm webbing might get hurt.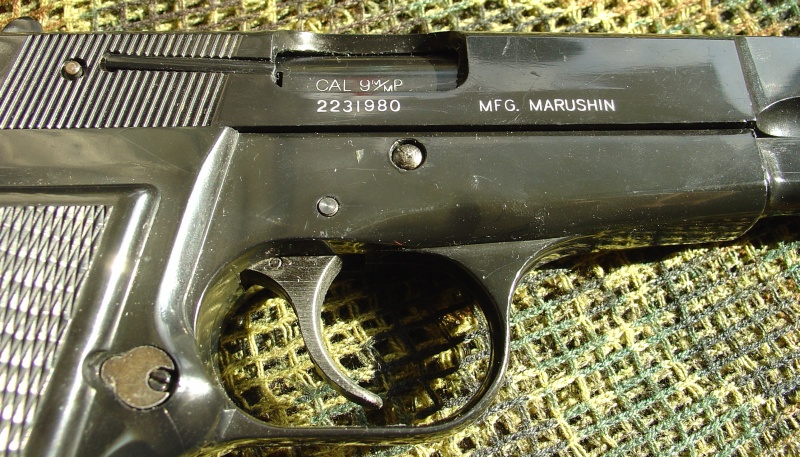 Barrel has a metal insert, typical for ABS modelguns.
Sights in this HP variant are open type, fixed. There is no provision to change anything. There is no white dot or other aid to help in targeting.
Magazine
Magazine is made of sheet metal, adding significant weight to the modelgun. It is a single folded sheet of metal, plus a bottom plate, spring and aluminum follower.
Browning HP was one of the first guns to feature double-stack magazine and model replicates that feature: it has a capacity of 13 rounds.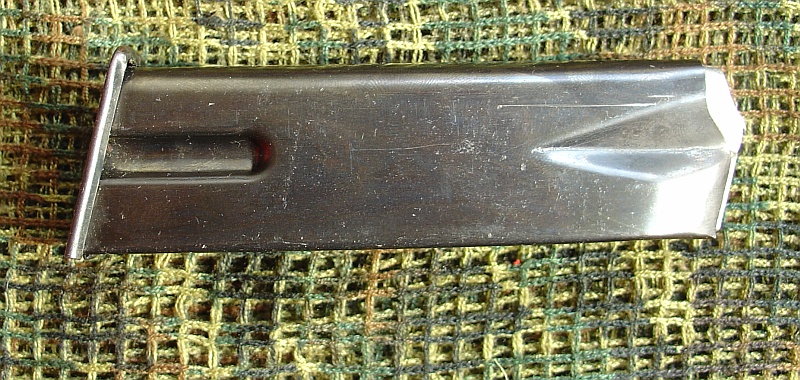 Modelgun magazine is virtually the same as the original Browning one, but the notch for magazine catch is cut lower than in the real magazine. Original Browning HP magazine fits modelgun, except that it does not lock correctly (due to a different place of notch) and spring is much too strong for modelgun. It also has a different bottom plate construction: modelgun is a single piece (held by a "claw"), while original one is two layers (held by "button").
Top: modelgun magazine, bottom: real magazine.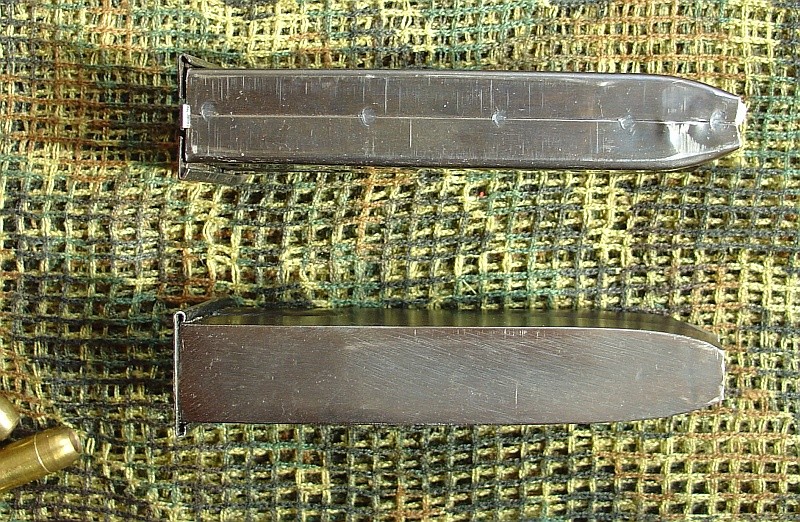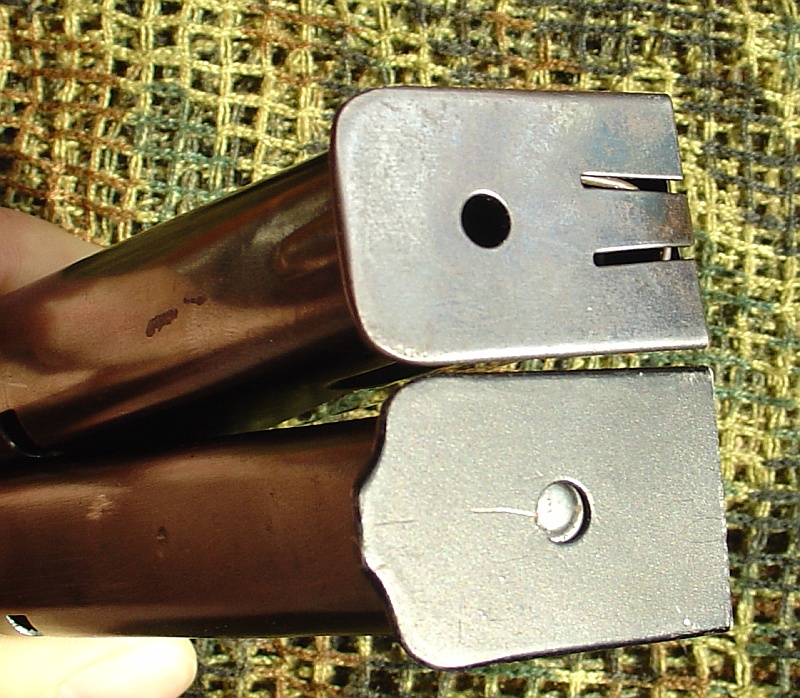 HP magazine is also part of safety system. Trigger is not connected to the hammer or the sear. There is a trigger bar that pushes another pivoting bar mounted in the slide, which in turn pushes down on sear and releases the hammer. Trigger bar will not push slide bar, unless it is held up by the magazine.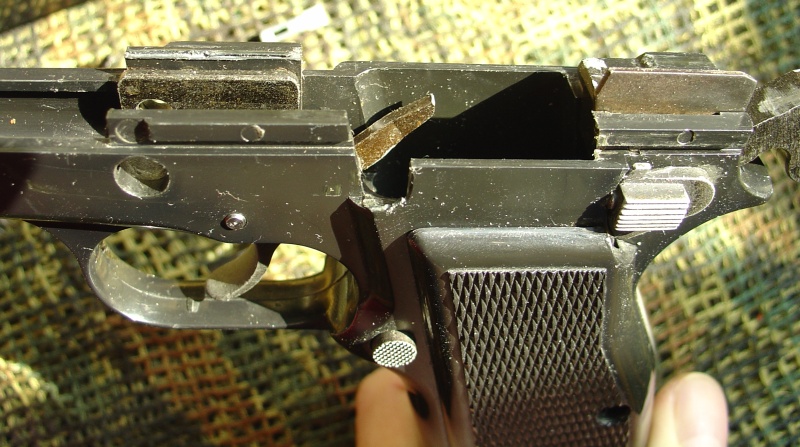 Cartridges
Typical Marushin design: two parts that are screwed together. Steel firing pin is an integral part of the bottom piece. There is a floating piece that goes in the top piece, and a cap facing downwards goes in top piece too.
Firing pin is made of steel and it rusts very quickly - you should take good care of cleaning and drying cartridges.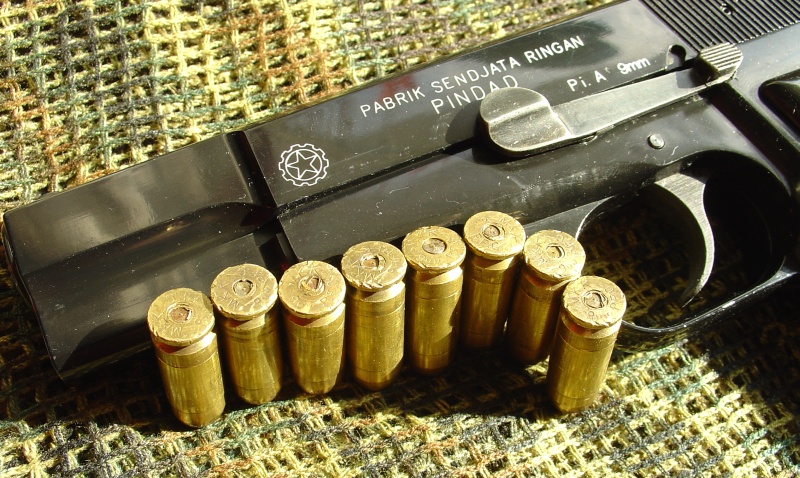 Firing
Performance is typical for Marushin style cartridges and firing system. Browning HP is a nice shooter, working quite well, with good blowback action. It is fairly quiet, compared to MGC cartridges or other designs. High magazine capacity ensures good experience.
Trigger pull is quite heavy, you need a strong pull to make it work. Original Browninig HP has the same feature - some people modify their pistol and remove magazine safety mechanism to get a better trigger characteristic.
One problem I have encountered is that safety pin just falls out of the model while firing. In addition, it first shoots away a spring-loaded plunger that is supposed to lock safety in safe/fire positions.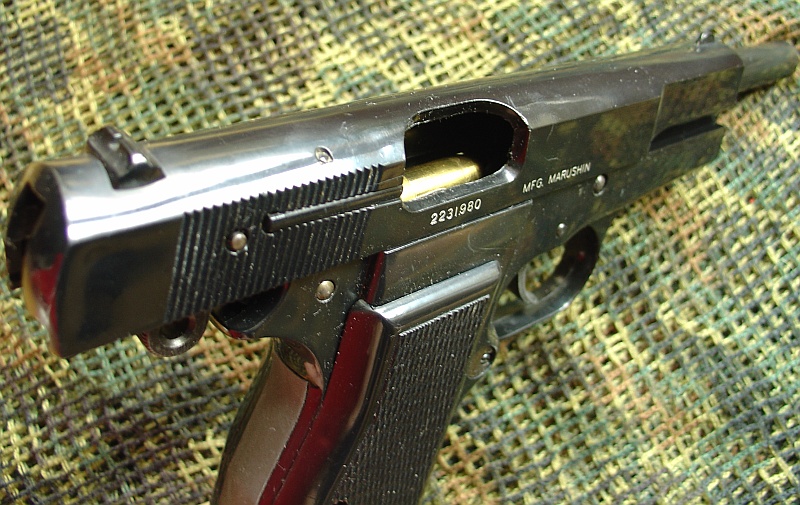 Problems
Apparently no product is without problems, including modelguns ;-)
What I know about Marushin Browning HP based on experience:
it is unrealistically light, plastic and shiny

cartridges require extra care, as firing pin in the base rusts very quickly

safety lever tends to fly away when firing, additionally launching a spring-loaded plunger

barrel, chamber and slide are made of plastic, so feeding/ejection problems will contribute to their damage

sometimes cartridges will fire when model is cocked (like in other Marushin designs)
Basic disassembly
If you are familiar with Colt 1911 disassembly, Browning HP should not be difficult:
Pull the slide back, lock it in this position using safety lever

remove slide stop

take slide off towards the front.

remove return spring - take care! There is a spring-loaded plunger that will fly if you are not careful!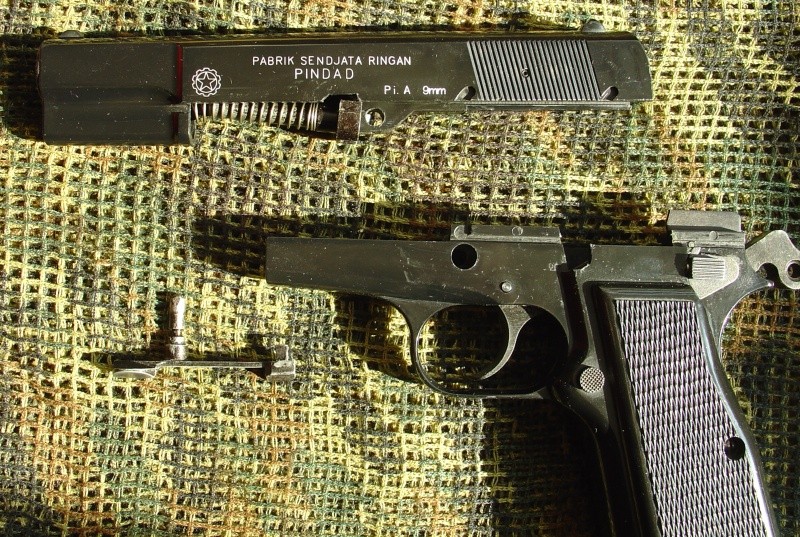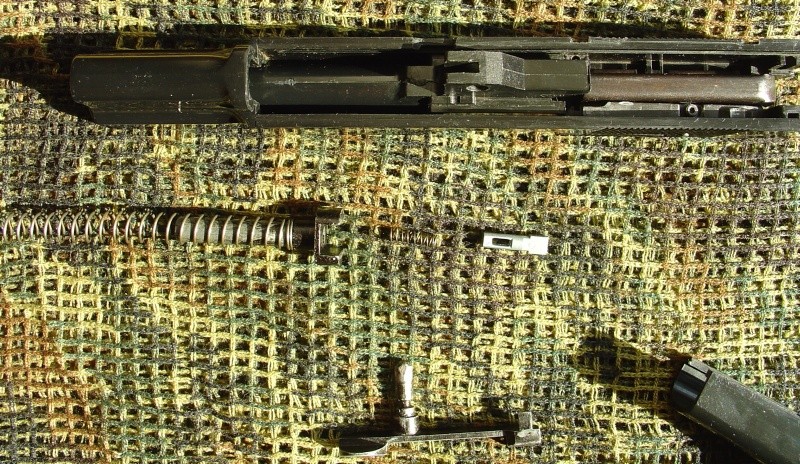 Further disassembly:
unscrew firing block from the back of the slide

remove barrel from the slide

unscrew detonator pin from the barrel
You can now clean barrel and detonator pin, as well as other elements: chamber area, firing block, top of the magazine.
Overall
I have mixed feelings about this Marushin model of Browning HP. It it a bit unrealistic: very light and plastic. HW versions are probably much better in this regard. Blowback mechanism is quite good - if only the safety lever did not fly away.
I have an ABS P38 model by Marushin that has very similar finish. Because I generally like P38, I like the model too. I think that if you like Browning HP, you might like Marushin model :-)